I am going to participate in my first Pour Your Heart Out to Me which I have heard of from Two Little Monkeys Plus Hubby This is written in a mother/daughter/father way which may seem slightly annoying but makes it easier for the writer. This wasn't edited and is hard to be written about so please excuse that. If we are on a personal level and you want to ask about it, feel free to email. :]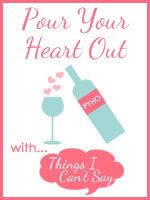 I am writing about something that happened that has just been bothering me and bothering me and I decided that it sounded like a good idea to 'pour my heart out'. First visit the mother in this story came to visit and was actually there to visit. She was with her daughter most of the few days, shopping, hanging out and going out to eat. Catching up, it was nice for the daughter to have her mother come visit, it had been awhile since she had seen her and she had had a baby. A few months went by and the mother left her husband for a 'necessary trip' that was a big fat lie. She used her daughter as an excuse without asking the daughter if that was perhaps okay with this. She told her husband that her daughter might possibly have cancer so she had to come out and help with the baby because the daughters husband worked so who would help her. She didn't inform the daughter of this until days before she was coming. The mother claimed she just needed to get away but couldn't just tell her husband that because he wouldn't want her to go. (said husband would have been suspicious as said mother hates visiting her children unless the husband makes her feel obligated. Just saying.) The daughter was outraged! How dare she jinx her body and lie. The daughter doesn't believe in lying, she tries to live her life as honestly as possible after a preteen/teenage life filled with bad decisions and cover-ups. The mother came and visited, there were a few hours here and there where the mother wasn't around, half of one day she was visiting old friends she said. While the mother was here the daughter explained that she didn't feel comfortable with all of lying and making up of stories. Daughter had her suspicions but only told her own husband of them. Another month goes by and mother calls daughter and states that she wants to get together for lunch because she is in town. No warning, no call, not shit. She just showed up and expected everyone to bend to her selfish will because she feels THAT entitled. Daughter states she is busy with baby and just ate but perhaps she would like to come hang out and explain what the fuck is going on. The mother simply states that she didn't want daughter to have to lie so now she doesn't have to make up any stories or cover. Hmm…the father knew that mother was here so therefore if he called daughter asking about mother what the fuck was she supposed to say. "moms here?" or "yeah she is but she just showed the fuck up and I had no idea". So mother and daughter and grandchild (whom she displays little interest in and tells daughter every time the baby cries to give it a bottle grrrr) go to dinner. Mother then suddenly becomes verrrrrry tired and needs to go back to her hotel (which she won't name because 'you wouldn't want to have to lie'…ugh shut up already liar). Next day mother comes over around four to go to dinner, see her for a couple hours. Very tired. Btw, the trip before she would become very tired early also…hmmm..is she a child still? You're very tired very early yet I know you have sleeping problems and you are visiting 3 times within about 3 months when usually you don't come to visit but every two years out of guilt. So the mother is in town for three more days where she doesn't call, text or come see anyone.
Mother's side is that she wants to leave father but doesn't have any money and doesn't have a place to stay or a job. She frequently jokes that she can get a home and we can all live together. She isn't joking; she says she is looking for a way out. Daughter stupidly attempts to sympathize with mother but can't. This isn't right. She also claims to have a job interview a few hours away and house hunting or some shit. Probably another lie.
So first day mother is here out of contact she claims that she can't come see anyone because she is on the phone with father all day. This also impairs her the second day out of contact. Third day the shit hits the fan. The daughter at this point is completely sure that the mother is having an affair. No doubt about it. Daughter texts father to say something to the effect of I don't know what's going on but I'm not involved. Daughter and father text a bit, father calls. Wants to know where mother is staying, daughter doesn't know, they go back and forth because surely if mother came to visit daughter she must know where she is staying. Nope. Father then finally after about a day and a half gets in contact with mother. Calls back and knows where she claims to be but wants daughter to drive by and check. Mother of course had told daughter that she had a job interview the next morning and would be several hours away so her car should not be at the hotel. Daughter and SIL drive to what is now referred to as 'Adultery Hotel' and sure enough after they drive through the lot forever looking creepy as fuck, there is her car, parked far out. Jesus Christ thinks daughter what the fuck is wrong with this family! So daughter and SIL go in and ask what room she is and say they must speak to her. Father has to know if she is with another man. Daughter is escorted upstairs as father has previously spoken to hotel and probably wasn't nice. Bang on door, no answer. Mom I need you open up. Daughter hears noises and soft music (GROSS) but no answer. Daughter tells father that's all the the Adultery Hotel will allow her to do. Father says fine but he isn't doing well emotionally. Daughter and Father have highly emotionally charged conversations that leaves father crying and daughter hysterical. Out of respect for the father whom she still retains respect for I'm not detailing that. It was rough and traumatic and that is all. So daughter calls mothers phone again and again and leaves ridiculously upset messages such as "you need to call dad and you need to fix this. It isn't right. Call him now and fix this!" Daughter then can't get hold of anyone forever and can't even go home because she has a family member there who she doesn't want to upset. Daughter receives text at 3 something in the morning (WTF?!?!) saying 'you knew I had an interview' ummm okay 1. Who the fuck is up at 3 am to text when they have an interview and 2. You were left a HYSTERICAL message and you just text back. WHAT THE FUCK!!! 3. You're a horrible person who is obviously having an affair and using your daughter and grandchild as an excuse to escape. So things go on, mother admits to affair. Flies home the next day and supposedly they start to work on it. Daughter has no idea because she has told her mother that she doesn't want to speak to her until she is ready. This shit is ridiculous and she is not ready to even handle it. Daughter calls and checks on father frequently until father stops taking her calls, answering texts or emails. Fine. That's just fucking great. Daughter is told to keep what happened a big secret that no one needs to know and is given a lame cover story and made to lie to her siblings about what's really going on and it tears her up. She is still depressed pretty regularly over the whole incident. The mother convinced everyone that she now can't leave because she is afraid of what will happen. She feels stuck and tells the father she is depressed and has been for years, he too is depressed. There is minimal communication of feelings in this family and it obviously doesn't work. So now all family members that know the 'real' story think either father is stressed out so he needs to mellow out or that mother is depressed and stuck in her relationship. Daughter thinks that they can't live with each other and feed off the misery but they also can't live without each other because deep down they do love each other…sort of. Daughter emailed mother last week and has gotten no response. Probably because daughter told mother she needed to understand why she did what she did or she couldn't move on.
Daughter feels as if her whole life with this person was a lie. Mother is hard to live with and is very critical and never forgets any mistakes. Doesn't matter how much good you have done in your life, mother only remembers the bad. Mother makes you feel like shit about yourself because she nit picks everything you do and doesn't support you in anything. Mother didn't want you to have a baby or get married. Daughter thinks that mother wanted her to be just as alone and miserable as mother so she'd have some company. Daughter says fuck that I'm happy and you will not bring her down into your ridiculousness. However daughter also knows that she only has one mother and it isn't fair to grandchild not to know grandmother. Daughter knows there isn't a lot of time on this earth and it isn't worth it to go through it bitter and without family. Daughter misses talking to father desperately and wonders if he really is as ok as her siblings say. Daughter is the only one who knows the real deal and had no one but her husband and two other close confidents to talk to. Daughter wants to work on things with mother but has come to the realization that until mother works on her own happiness she can't contribute to anyone else's. Daughter will just have to wait, and it hurts.