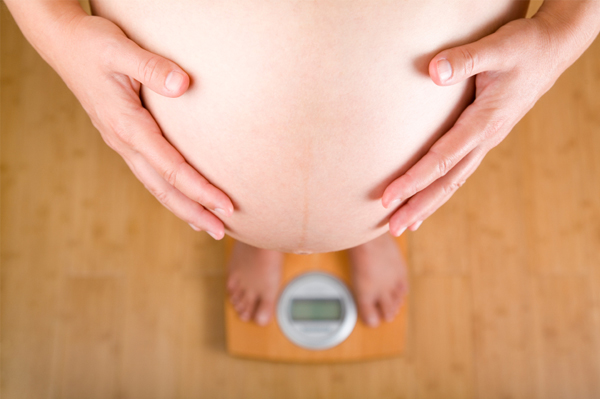 I have been!  I actually reached my lowest weight while I was pregnant, I was only about 11 weeks pregnant but I'm counting it!
Basically what I'm in right now is what I call 'a battle with baby', each week the baby and I are supposed to gain about a half a pound so I'm trying to lose a pound to offset that gain.  Complete honesty?  It's not happening anymore, the past week I've been at the same weight everyday.  But, I'm not gaining even though the baby is.
I have gained about 2 pounds after being down 11 so I am still down 9.  I won't say that it's easy to lose weight while pregnant and you can't restrict your diet because it's not good for baby but there are things you can do to lessen the extra pounds being packed on so that you don't gain like crazy.
Do not overeat!  They say you are eating for two but really you only need an additional:
First Trimester – 85 Extra Calories
Second Trimester – 285 Extra Calories
Third Trimester – 475 Extra Calories
These are just estimates of course and everyone is different, I currently do not eat any additional calories unless the end of the day comes and I'm hungry and want a little snack.  Remember though that I am considered obese and therefore I need a lot less weigh gain versus someone who is 120 pounds.
Second, give in to your cravings but do so in a controlled way.  Don't just eat a whole bag of cookies, pull out a few and really enjoy those.  We are all going to overeat and pig out sometimes (pregnant or not) and that's normal but do what you can to prevent it.
Third, and lastly, because there isn't anything extensive about losing weight while pregnant or keeping pounds at bay.  Exercise!  You can do water aerobics, walking, cardio, pilates, yoga, weight lifing and even modified zumba!  Plus, exercise is proven to help with labor and speaking from the experience of a hellish labor and birth…you want any advantage you have!
Now go forth and conquer your baby weight!!