This post may contain affiliate links which may give us a commission at no additional cost to you. As an Amazon Associate we earn from qualifying purchases.
Confession, Pinterest has always been my least favorite social media channel and for a long time it was my lowest source of traffic. While I was always hearing about people having "viral pins" and getting gobs Pinterest traffic. I was getting crickets.
Creating images isn't my strong suit, and I wondered why I was wasting so much time on a platform that was bringing me so little traffic and joy. But I was also annoyed; why was everyone else getting so much traffic from Pinterest and I wasn't. I wanted in on that Pinterest traffic boom.
I clearly had my Pinterest strategy all wrong, and I didn't have the time, or even the want, to put the energy into it. That is, until I tried the Pinterest scheduler, Tailwind (www.tailwind.com). It was a complete Pinterest game-changer for me. Suddenly I was able to sit down and schedule out my pins for weeks at a time. I was able to easily make sure my own blog posts were being pinned regularly to a variety of relevant boards. And I was seeing results in the amount of traffic that Pinterest was sending to my blog.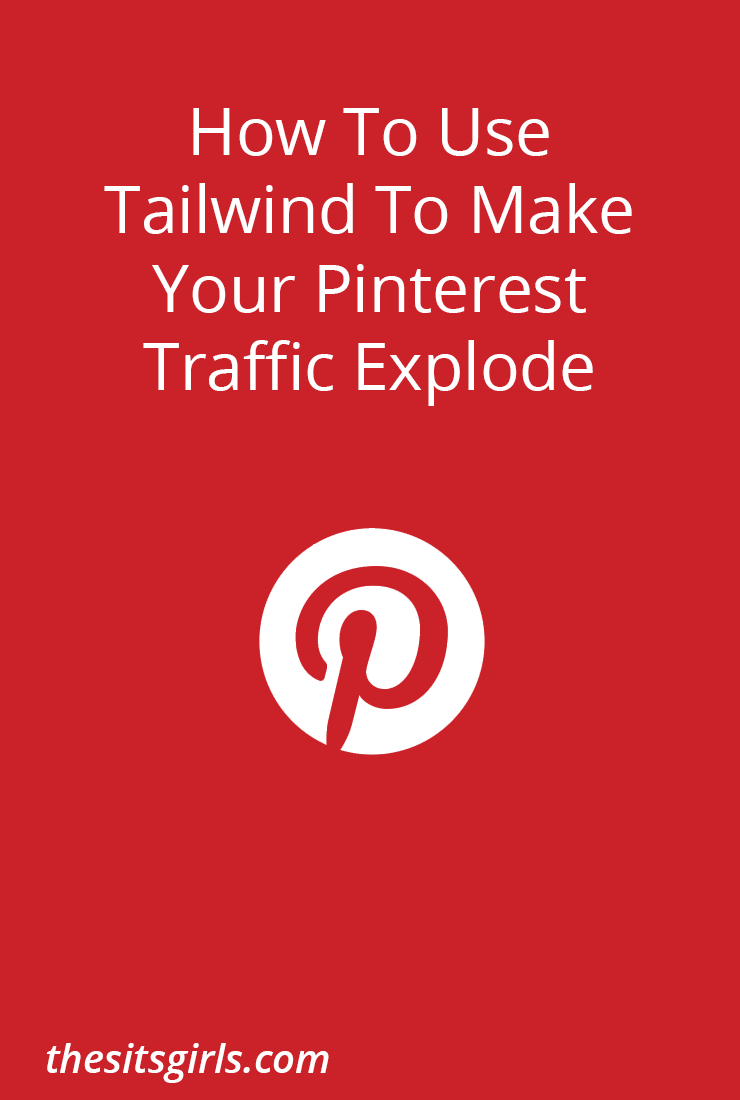 How to Use Tailwind to Make Your Pinterest Traffic Explode
Note: this post contains affiliate links which may give us a commission at no additional cost to you.
Try Tailwind Out (For Free)
When I first heard about Tailwind I wasn't convinced that it would work for me or that I would have time for another thing in my blogging life. I signed up for the free trial, which allows you to schedule and publish up to 100 pins for free. The free trial also includes Pinterest Reports for those who want to take a deeper dive into Pinterest.
When my free trial ended, I was quick to sign up for the paid service. The bump up in traffic and time I was saving each week were both great. I also liked that I didn't have to hand over my credit card information to start the free trial.
Set Your Pinning Schedule
At first, I set up a schedule of approx. 7-10 pins a day. But as I started getting more traffic from Pinterest I decided to let Tailwind tell me when to pin. Tailwind can recommend a schedule for you based on when your pins are being repined, and when users are most actively searching for your content. Tailwind does all that analytical, hard-work that I had been avoiding for years.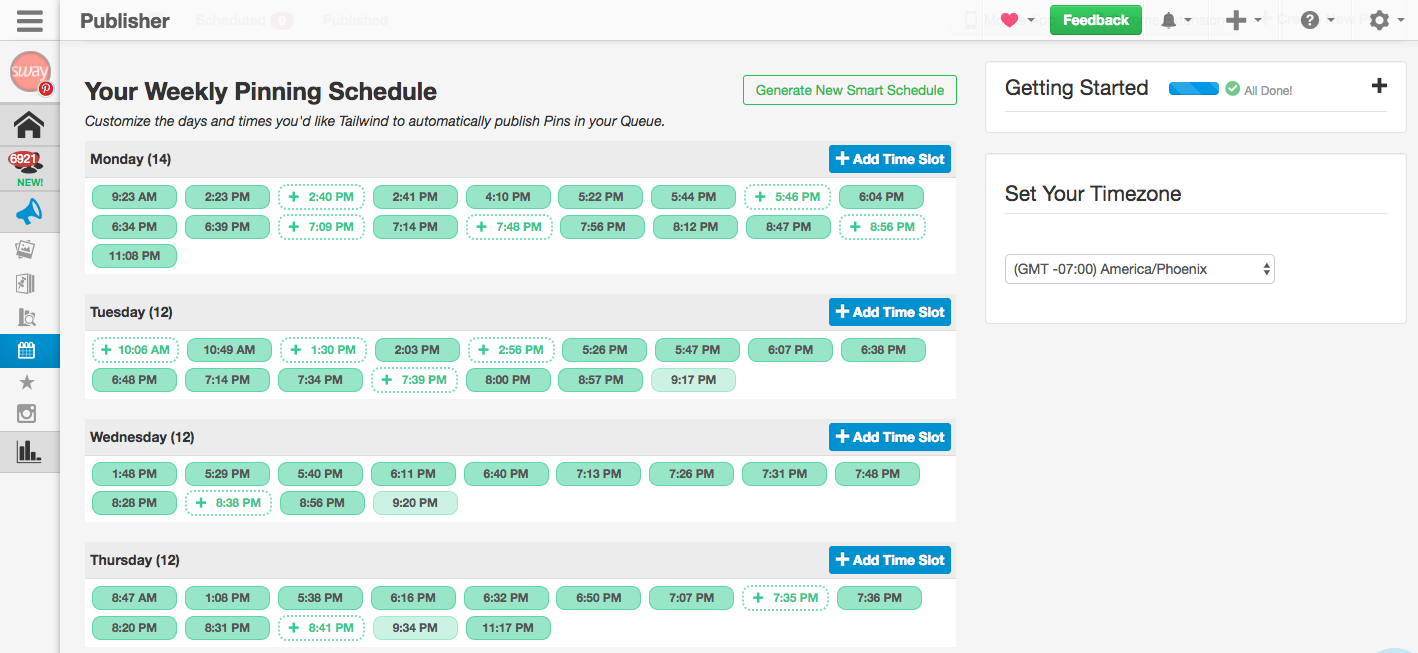 Once I let Tailwind determine when I should be pinning I saw another bump in my traffic because people that were looking for my content were finally finding it.
What Should I Pin?
I didn't want to be that person who seems to only repin big blocks of her own stuff, but I do want to follow the best practice of sharing my content regularly. Because Tailwind custom schedules my pins, they aren't coming off as spammy, even when I schedule them to be shared on several relevant boards at once to save time.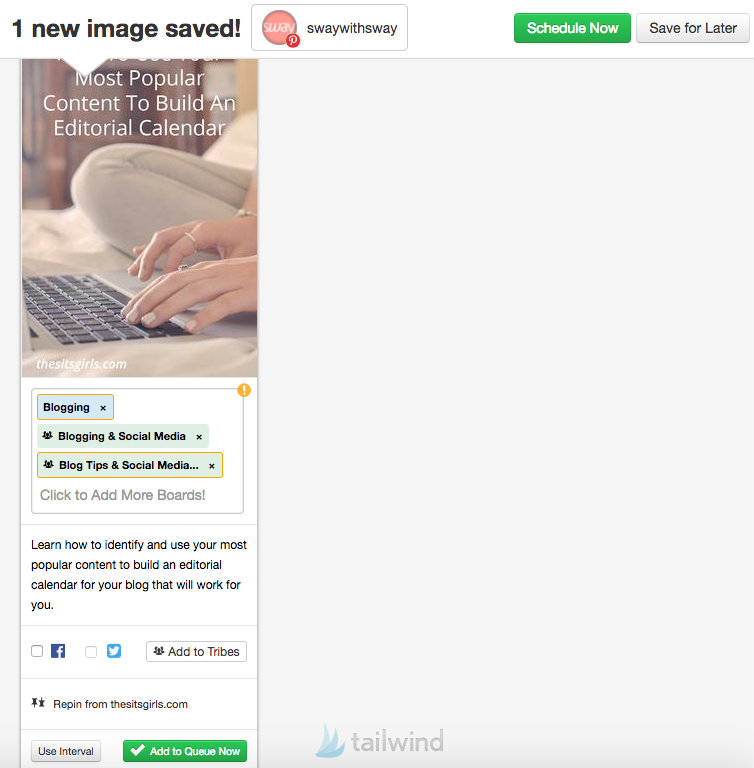 Someone who follows me on Pinterest isn't going to scroll through and find 20 pins in a row from me, because Tailwind intuitively spaces out when they are pinned. I generally pin between 70-80 percent of my own content and the rest is high quality content I find in Tailwind tribes or while browsing and searching on Pinterest for content in my niche. I am currently pinning between 20-30 pins a day.
Tailwind Tip: It's easy to schedule pins on Tailwind from Pinterest or from any site on the internet when you use the Tailwind browser extension. The schedule button shows up when you over over an image. 
Join Tailwind Tribes
Tribes are one of the most exciting things about Tailwind. Tribes are groups of bloggers who share their content in groups inside Tailwind in hopes that other tribe members will repin it. Tribes have different niches, so join the ones that best fit your site.
Now, rather than just sending my Pin out into the unknown world I can add it to a tribe full of like minded people who are looking for content like mine to repin.
Add Your Content to Tribes
Every time you schedule a pin you get the option to add it to a tribe. You simply click "add to tribes" and then it gives the list of all the tribes to which you belong to add your pin to.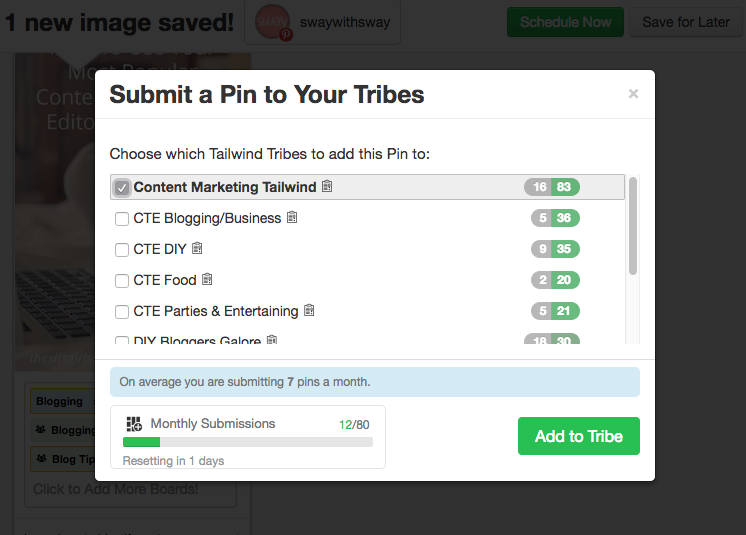 You can, and should, add your pin to multiple relevant tribes to increase the odds of other bloggers repining it.
A few more tips to up your Tailwind game:
Pin to multiple boards at the same time, then click on the "Use interval" button which allows you to space out when they are pinned, so you aren't pinning the same content on the same day.
Check your stats. Every time I fill my Tailwind schedule I look at what posts have performed well on my site in the last days and weeks. If I see a post pop up that doesn't usually get much Pinterest traffic I'll schedule it. If I have a post that is consistently getting good Pinterest traffic, I'll schedule it more frequently and create new boards to pin it to.
Create lots of boards. I created a board for each vertical on my site. I've created boards for different types of travel (road trips, everything Disney pins, abroad).
My favorite thing about Tailwind is that once my schedule is set, I can truly forget about it. It's like the slow cooker of the blogging world. I put everything in and just wait for the Pinterest traffic to roll in.
I've been using Tailwind for 6 months. When I started, Pinterest was at the bottom of my list.
Now Pinterest is my number one traffic source.
After so many years blogging, and having paid for services I never use, I can say that Tailwind is one of the best money spent on my site. These are my personal results, but Tailwind also publishes the
Typical Results of Tailwind for Pinterest Members
every year, so you can see exactly what the average growth rate looks like for their members.