This post may contain affiliate links which may give us a commission at no additional cost to you. As an Amazon Associate we earn from qualifying purchases.
If you've been blogging for awhile, you've probably heard of Hootsuite — especially if you are active on Twitter. For those who haven't heard of it, most will tell you it's a Twitter and Facebook scheduling tool. However, it's much, much more. While Hootsuite is a great way to schedule posts to go out to Twitter and Facebook, it can schedule to other social networks (over 35 different ones). Hootsuite also allows you to track keywords, find out trending topics, and offers analytics. Learning how to use Hootsuite will help you to organize and manage your social media platforms easily.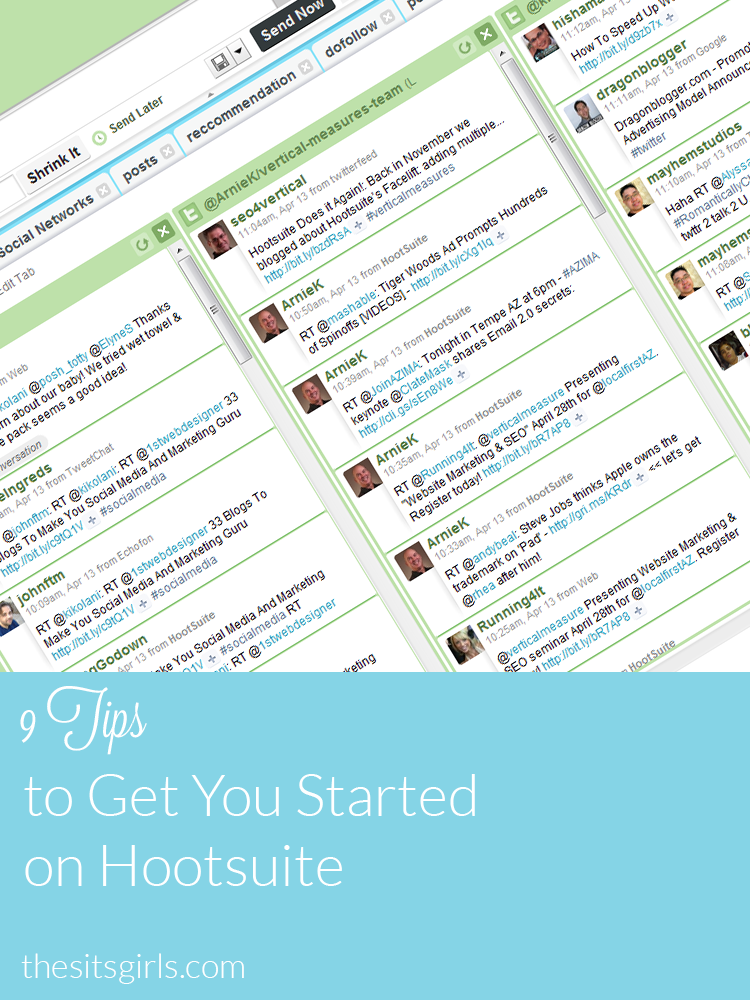 How To Use Hootsuite
First, let's talk about getting started with Hootsuite. You can registered with an email, or through Facebook, Twitter, or Google+. A basic account is free, but if you plan to manage more than a few social media accounts, there are business accounts, starting at 8.99 a month.
Once you create your account, you'll be directed to a quick start page where you can connect your social accounts. It only shows a few, but you can connect more later. Once you've connected your accounts, you can start using Hootsuite.

Now, it will take you to the Hootsuite dashboard. When you using it for your first time, you'll be given a list of "tasks" to do — adding streams, creating a tab, and scheduling a message. Adding a stream makes it really easy to follow all the happenings from all your many social networks in one place. You can also add up to three other social network accounts to manage (unless you upgrade to the business plans, where you are offered more).
Here is a view of my currently completed Hootsuite dashboard: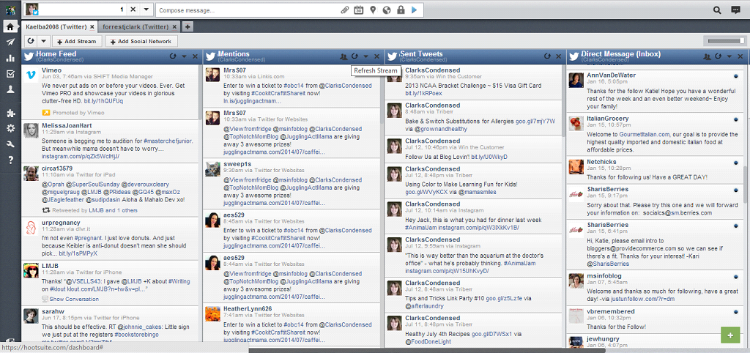 At the top, the two social networks I have on this account are listed in tabs. In each tab, I"ve added streams specific to that account. For instance, for the one called Kaelba2008, you'll see my home feed stream, a mentions stream, sent tweets stream, and a direct message stream. By having all of these streams, I can view everything quickly and efficiently, respond to tweets, retweet ones that I like, and just monitor things easily.
How to Schedule a Post With Hootsuite
Even though Hootsuite is for far more than just scheduling social posts, it's probably best that we start with the basics. At the top of the page, you will see a small box that says, "Compose message." Here you can type whatever message you want, add photos, and decide what time you want the post to go out. To the left over the compose box, you can select which social networks you want to use. You can schedule to more than one network at a time!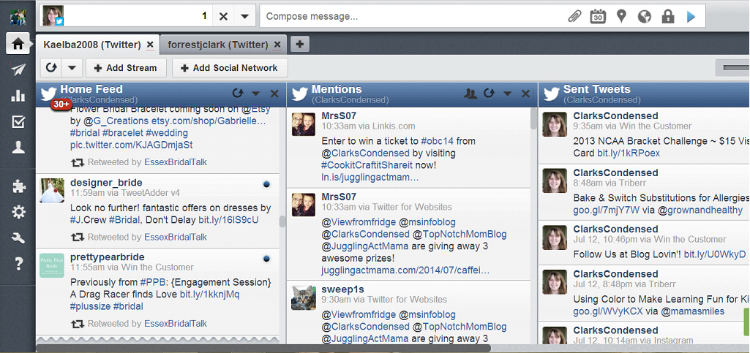 As far as selecting the time to schedule a post, you have two options — manual and auto. To access either of these, click on the little calendar in the compose box (it is blue in the picture below):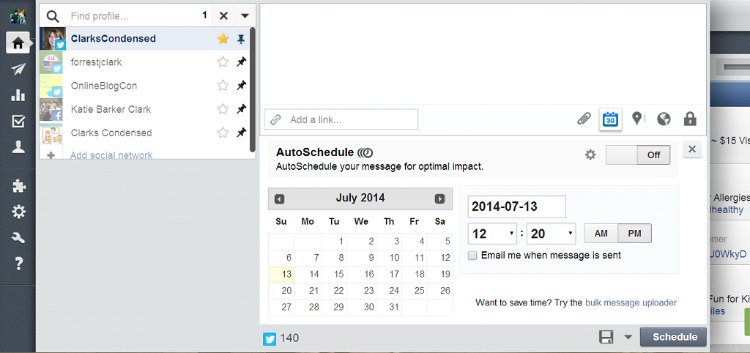 I use both scheduling options. For certain campaigns, or when I help host a Twitter party, I have to have my tweets or Facebook posts go out at a specific time. For that, I obviously use the manual scheduler. However, when there's no specific time, I leave it up to the Hootsuite AutoScheduler to determine the best time to send the post. I have never been disappointed with the times it's chosen.
You may also see the notice in the picture above that says, "Want to save time? Try the bulk message options." I highly recommend this tool. It makes scheduling multiple posts at a time a breeze.
Add Your Blog RSS to Hootsuite
Assuming that you are using Hootsuite to manage your or a client's social accounts for a blog, you'll want to add your Blog RSS to Hootsuite. This enables your new blog posts to be auto-posted as soon as you publish them.
Here's how you do it:
1. Hover over your profile picture in the top left of the screen to cause the gray menu to pop out.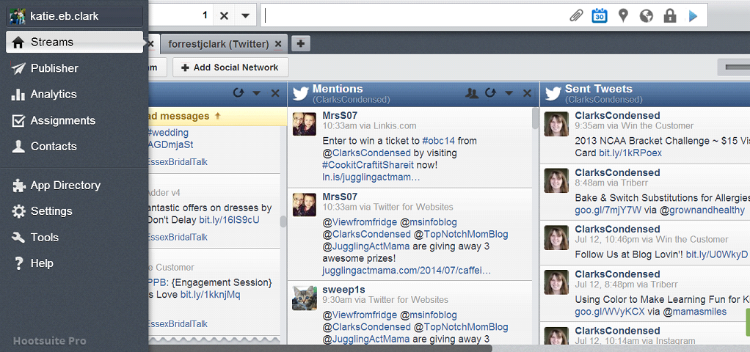 2. Select Settings.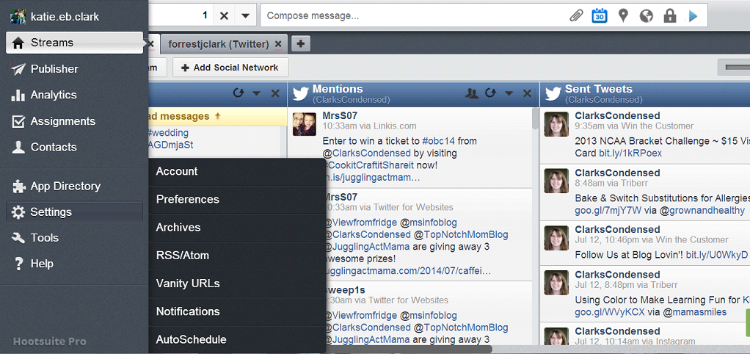 3. On the screen that pops up, select RSS/Atom, then the + icon next to My RSS/Atom Feeds.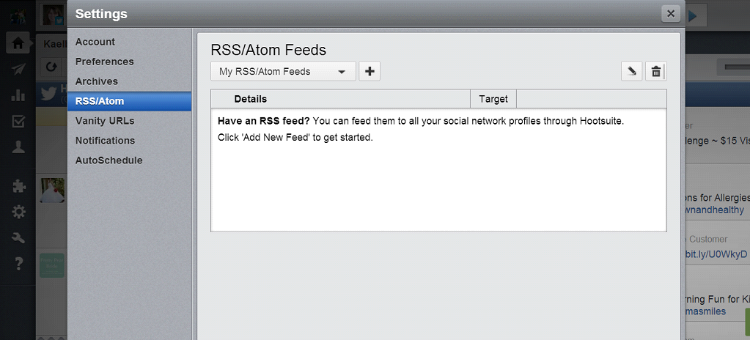 4. Add in your feed information. If you are on self-hosted WordPress, your feed address will most likely be yoursite.com/feed. In this section you can select which social networks you want your posts sent to, the frequency Hootsuite checks your site for new posts, how many posts to send, the format you want them sent in, and any messages you want automatically added to your social messages.
I chose to put my twitter handle, @ClarksCondensed, at the end of each message, so I could more easily track who was retweeting my stuff.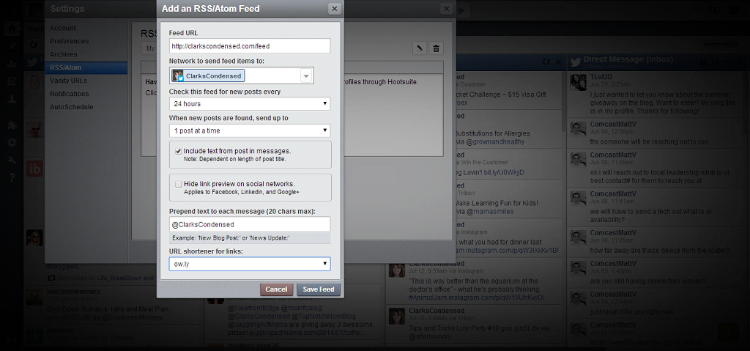 5. Press save feed.
Now that we've got the basics down, here are a few extras that you might not know about Hootsuite.
Scheduling to Facebook Groups on Hootsuite
While I only have Twitter accounts on this account, I've connected LinkedIn, Google+ (for pages), and Facebook pages at different times. Something I don't think many people know about is that you can schedule to Facebook Groups using Hootsuite. A lot of bloggers are creating groups where they can share their posts with their readers (since Facebook page reach for many is dismal). For instance, I'm a part of a recipe sharing group called The Recipe Box and another one called Food Bloggers' Can't Miss Must Make Recipes. In these groups, I'm supposed to share some of my posts several times a week. Because I typically just take a few times a week to schedule my posts to various social networks, I was so excited when I figured out a way to schedule to Facebook groups.
All you have to do is click on "Add Social Network", then select Facebook: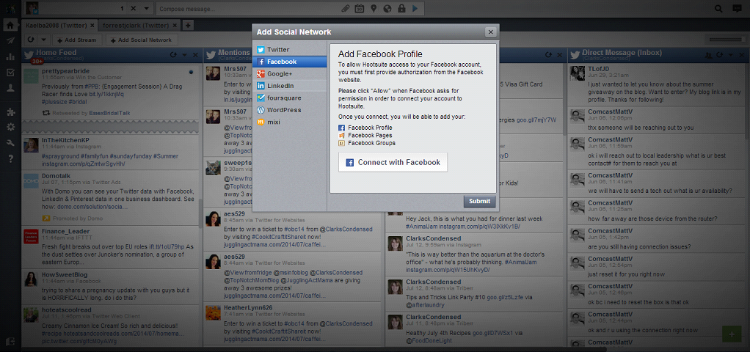 From here, you'll connect your personal Facebook account, and it will bring up all the Facebook pages that you manage as well as all the groups you are a part of: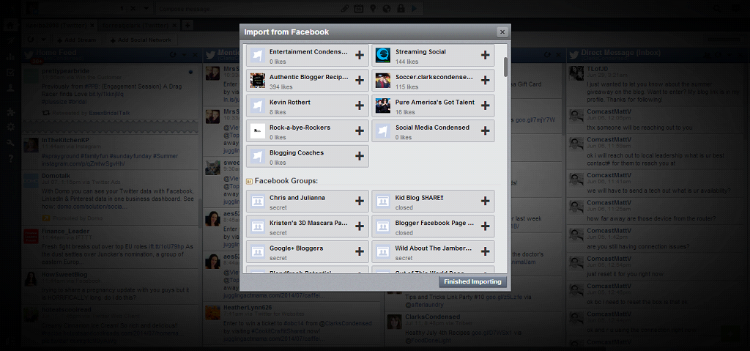 Once your chosen pages and groups are imported, you will just schedule your posts as you normally would!
Follow Hashtags on Hootsuite
Have you ever participated in a Twitter party? Or perhaps wanted to follow a hashtag that was assigned to an episode of your favorite show or event? Like them or not, hashtags are definitely being used wide and far today, and sometimes you might want to follow one.
While you can do this on Twitter, I often find it a little bit difficult to follow completely. Plus, sometimes I want to follow more than one hashtag at a time. In Hootsuite, you can add streams for specific hashtags, so you can always have an up-to-date view of what's being tweeted.
I've found that following hashtags can be very helpful for coming up with post ideas. For instance, I used to write for a website that was about medical and healthcare mobile technology, and there was a hashtag that everyone in this niche would append to their tweets — #mHealth. Whenever I was struggling to come up with a topic, I would just go to my Hootsuite stream and see what others were talking about in the stream. It really helped me to come up with some great posts!
Whatever your niche is, it can be beneficial to add a few hashtag streams to your Hootsuite account for hashtags that are often used. It can help you connect with other bloggers, find new ideas, and much more.
Easily Check Up on Twitter Lists
I have quite a few Twitter lists (accounts that I have assigned to specific groups so I can see those tweets a little easier, rather than sifting through my entire Twitter feed). You can add these to your Hootsuite account, too. Echoing what I've already said, this makes it easier to monitor what's going on with the accounts you are following.
Monitor What People are saying
If you are a business owner, or manage the social accounts for a business or blog, being able to monitor what people are saying about your company is essential! I've been contacted by various companies (and formed some great relationships) because they say I said something about their company on Twitter or Facebook.
You can monitor your company/blog's name, certain keywords that are associated with it (or that you are just interested in following, without looking for a specific hashtag), etc. There are two ways to do this — Keyword Tracking and Search Query Tracking.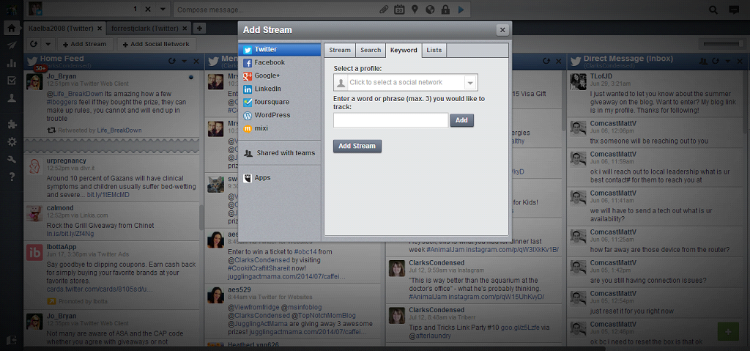 The Search Query Tracking allows you to follow a specific search query, and you can specify what parameters you want to show in those results. Here are the examples Hootsuite gives of how you can set up Search Query Tracking: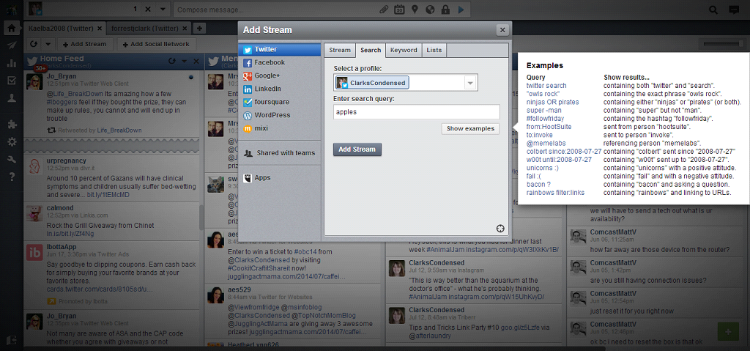 Next, you can use Keyword tracking. Basically, you can add up to three keywords you want to follow in a specific stream (which is helpful, if you don't want to make a different stream for each keyword.
Assign Tasks
If you work on a blog with multiple contributors, this feature is pretty cool! If you are looking through your Twitter feed, and you see an interesting topic that you think someone should write about, the drop down menu on a Tweet has an option to "assign" to a team member, so they can see it. This is a great way to quickly share ideas.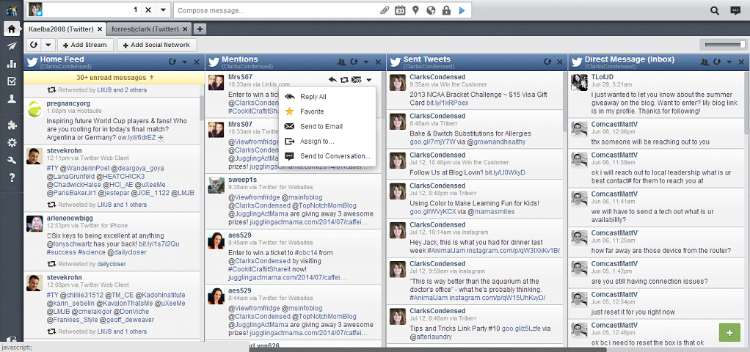 Analytics
Hootsuite has an excellent analytics feature, which can be accessed by going to the left fly out menu, and clicking on analytics.
Here you can create certain reports (either based on one of the preset templates they have, or by creating your own template) to monitor the social impact of your posts. Some of the more advanced reports do require that you purchase "points" in order to run them.
Below is a basic report that you can run: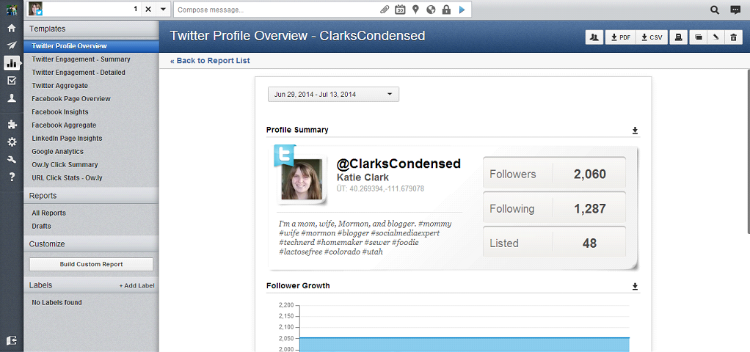 Mobile App
Hootsuite has a great mobile app so you can monitor all of these things on the go. I use it far more than I use the Twitter app on my phone. It's available on both Android and iOS devices, so if you want to get the most out of Hootsuite, definitely download the app!
Keep Reading
Looking for more info about social media? Here are a few posts you'll find helpful: