This post may contain affiliate links which may give us a commission at no additional cost to you. As an Amazon Associate we earn from qualifying purchases.
I recently polled a number of women in my community on what they thought the most difficult aspect of blogging is.
In my head, I was thinking the responses might focus on how to increase your readership, reader engagement, finding relevant photos, or struggling with knowing where to draw the line in terms of information shared with readers.
What I received was a unanimous cry for more time!
Time management. Of course. I forgot that some of you are actually still sleeping out there!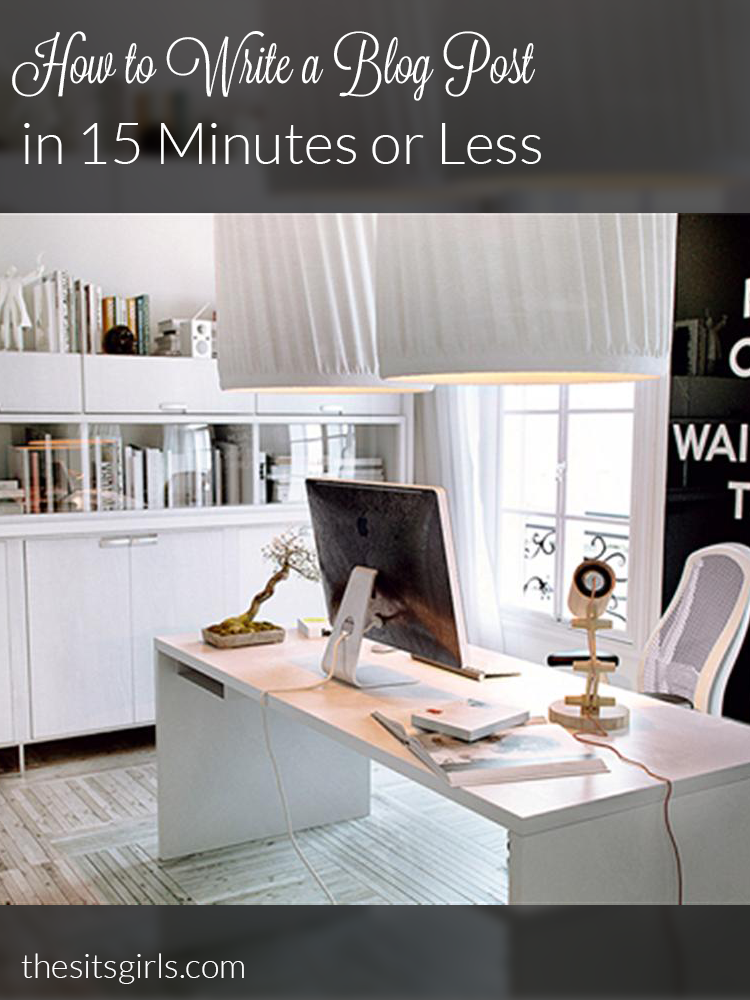 How To Write A Blog Post In 15 Minutes Or Less
Because all of us can use more hours in the day, here is a list of tips that will help you to write a blog post in 15 minutes or less.  Following these tricks will save you time and ultimately make the writing process a snap!
1. Keep Paper Handy
If you write ideas down as they come to you, the time you need to spend actually brainstorming at the computer will decrease dramatically. When I sit down to write a blog post, I spend at least 15 minutes looking at drafts, compiling notes, and thinking about what topics I can tackle. When I keep notes and have a specific goal in mind, I can write a blog post in no time.
2. Write A Blog Post When Inspiration Strikes
If you write a blog post the moment inspiration strikes, letting your thoughts flow out of your fingers without editing them, and then click save? What you have is a draft waiting to be polished. The next time you sit down at your computer and feel uninspired, simply thumb through your drafts, edit your thoughts, and publish.
3. Record Your Conversations With Friends & Family
Actually recording conversations might be a little much…but every conversation you have with someone has value. When you hang out with your best friend, consider jotting down topics that you touched on. You may not be able to post about Aunt Becky's awful Tater Tot Casserole at Easter Brunch, but what about a post on Potluck Etiquette? Chances are you've already hit upon most of your main points during your conversation about the topic, so putting it in writing should be a breeze!
4. Take Pictures
Snapping photos takes relatively no time at all. So many of our phones come equipped with cameras. You'll also find that a small point and shoot camera takes up little space in your purse. When I'm feeling completely lost for a blog topic I glance through my most recent photos and allow them to inspire a blog post.
5. Follow a Template
An insightful post is an insightful post regardless of who developed the structure. Fill in the blanks of this "Where I'm From" template and you'll be surprised to find how quickly you can put together a unique perspective for your next blog post on a tried and true template.
6. Keep It Short
An insightful post is an insightful post regardless of the length. Try your hand at creating a Six Word Memoir. They can be funny, deep, moving, or just plain silly. Pair it with a great photo and BAM…you've got a blog post.
7. Archives Are Your Friend
What were you doing last year at this time? How have things changed? Has anything come full circle? Taking a walk down memory lane might remind you that you never did post about the solution you found to your daughter's sleep problems you had talked about last year. Not only are your archives perfect for post inspiration and require little to no time, but it's also a superb opportunity for back linking to old posts…which is great for SEO.
8. Hi, I'm Mama Kat & I have a Writing Prompt Generator…Have We Met?
If coming up with something to blog about is what's clogging the creative process for you, then please do utilize the many sites out there built to inspire you. And by "many sites" I mostly just mean mine. Filled with over 1,000 writing prompts you can click your way to the perfect post topic! Click here to get started.
How about you? What are your secrets for success when it comes to writing a blog post quickly?