This post may contain affiliate links which may give us a commission at no additional cost to you. As an Amazon Associate we earn from qualifying purchases.
I grew up on Monkey Bread. It was one of those treats we had at every special occasion in our family. I think that's because it's one of the easiest desserts you can make, and the pull-apart pieces are always perfect for grazing. When I heard that Disneyland had created their own pumpkin-flavored version, I knew I had to try and make it at home!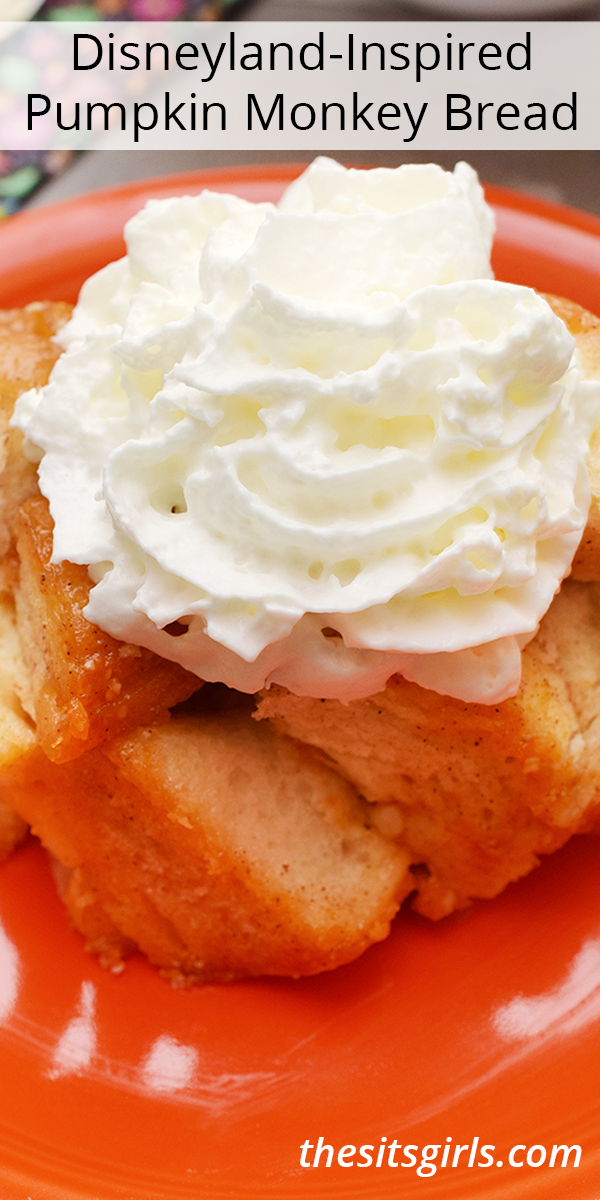 Pumpkin Monkey Bread Recipe
Ingredients:
2 Cans Refrigerated Biscuits
1 stick butter
1 1/2 cups granulated sugar
¼ cup of canned pumpkin purée
4 Tablespoons of cream cheese
1 Tablespoon of pumpkin pie spice
Whipped Cream
How to Make Pumpkin Monkey Bread
Add sugar to a gallon-sized plastic zipper bag. Sprinkle in pumpkin pie spice and shake until it is evenly distributed.
Cut each refrigerated biscuit into six equal-sized pieces. You can do this with a knife, but if you have kitchen scissors they work perfectly for this step!
Add biscuit pieces to the plastic bag and shake until each piece is covered in the sugar and spice mixture.
Place sugar-coated biscuit pieces into a well-greased bundt pan.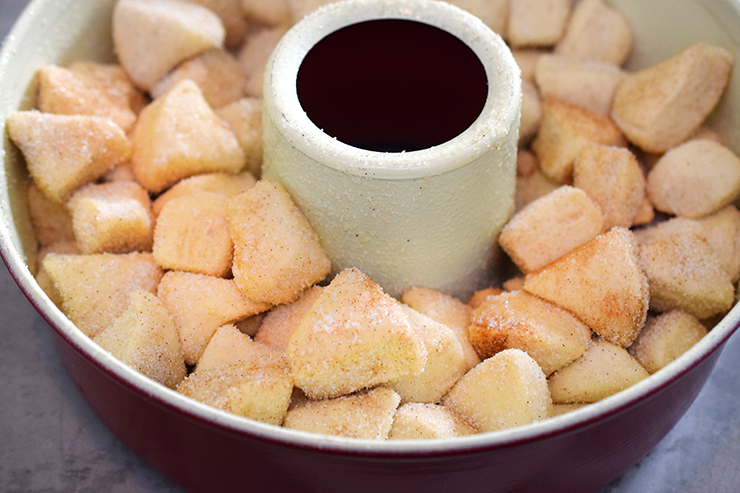 Melt butter and remaining sugar in a saucepan with the pumpkin purée and cream cheese until it's smooth. You may have small pieces of cream cheese remaining even after everything else is melted. This is fine!
Pour the pumpkin butter mixture on top of the biscuits and bake at 350º for approximately 40 minutes or until the top is golden brown. Mini monkey breads will take less time.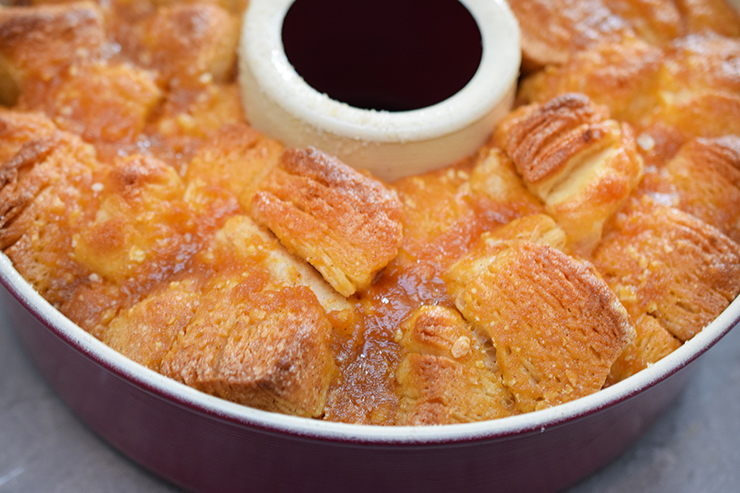 Remove the monkey bread from the oven and allow it to cool for just a few minutes.
Run a knife around the edge to make sure the monkey bread isn't sticking to the pan, then invert on your serving plate.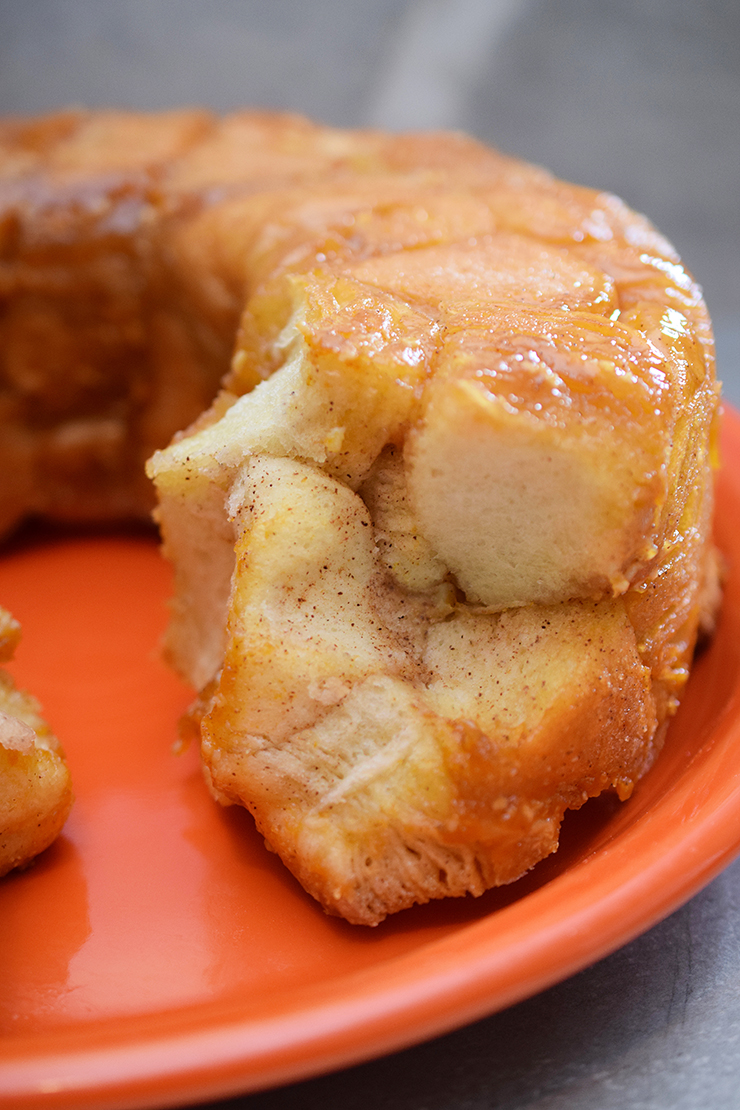 Serve the monkey bread warm.
At Disneyland they top the monkey bread with a pumpkin drizzle, which you can create by reserving some of the pumpkin butter mixture to add when serving. I skipped that part, as I found the pumpkin monkey bread had plenty of yummy gooiness without that extra drizzle. I did add the whipped cream, however, which is something I would never have considered adding to monkey bread in the past. The whipped cream really knocked this easy and delicious dessert up to the next level.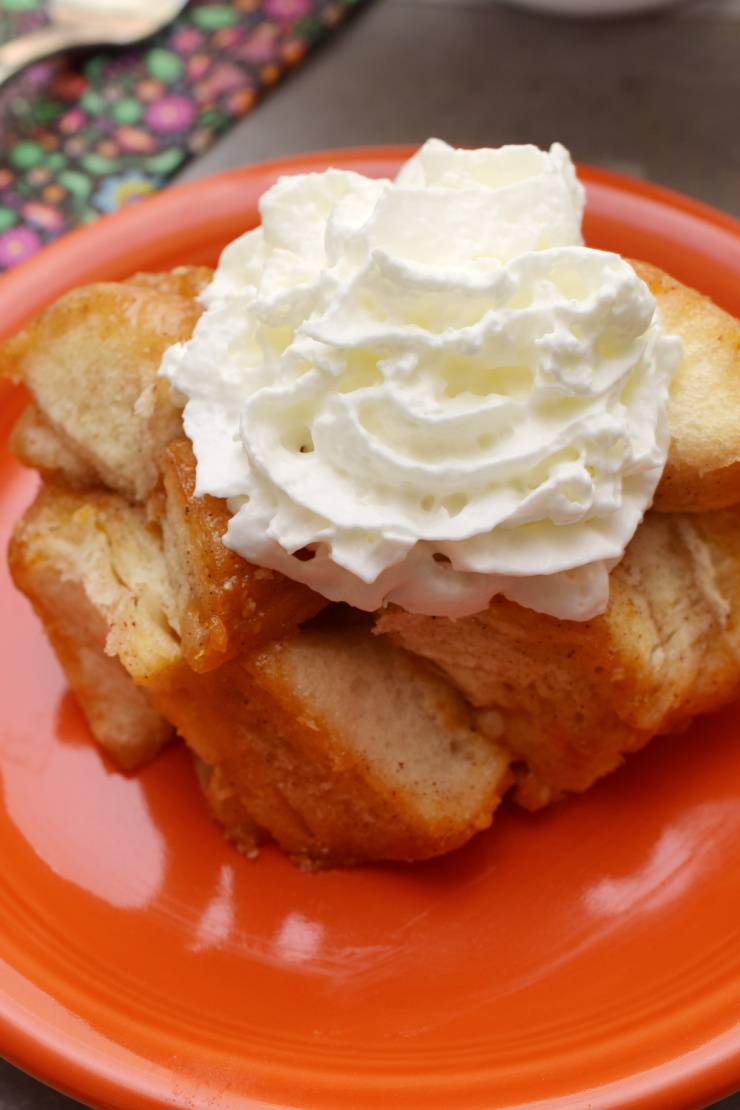 This Disney-inspired Pumpkin Monkey Bread is sure to please the whole family, and it's a perfect way to serve up a little magic even when you're not at your favorite theme park.