This post may contain affiliate links which may give us a commission at no additional cost to you. As an Amazon Associate we earn from qualifying purchases.
The average person receives about 100 emails per day. If you are a content creator, the number of emails can be five times that amount. It's extraordinarily easy to get overwhelmed by all of those emails flooding your inbox. Cyber Monday offers you the perfect opportunity to complete an easy email cleanup!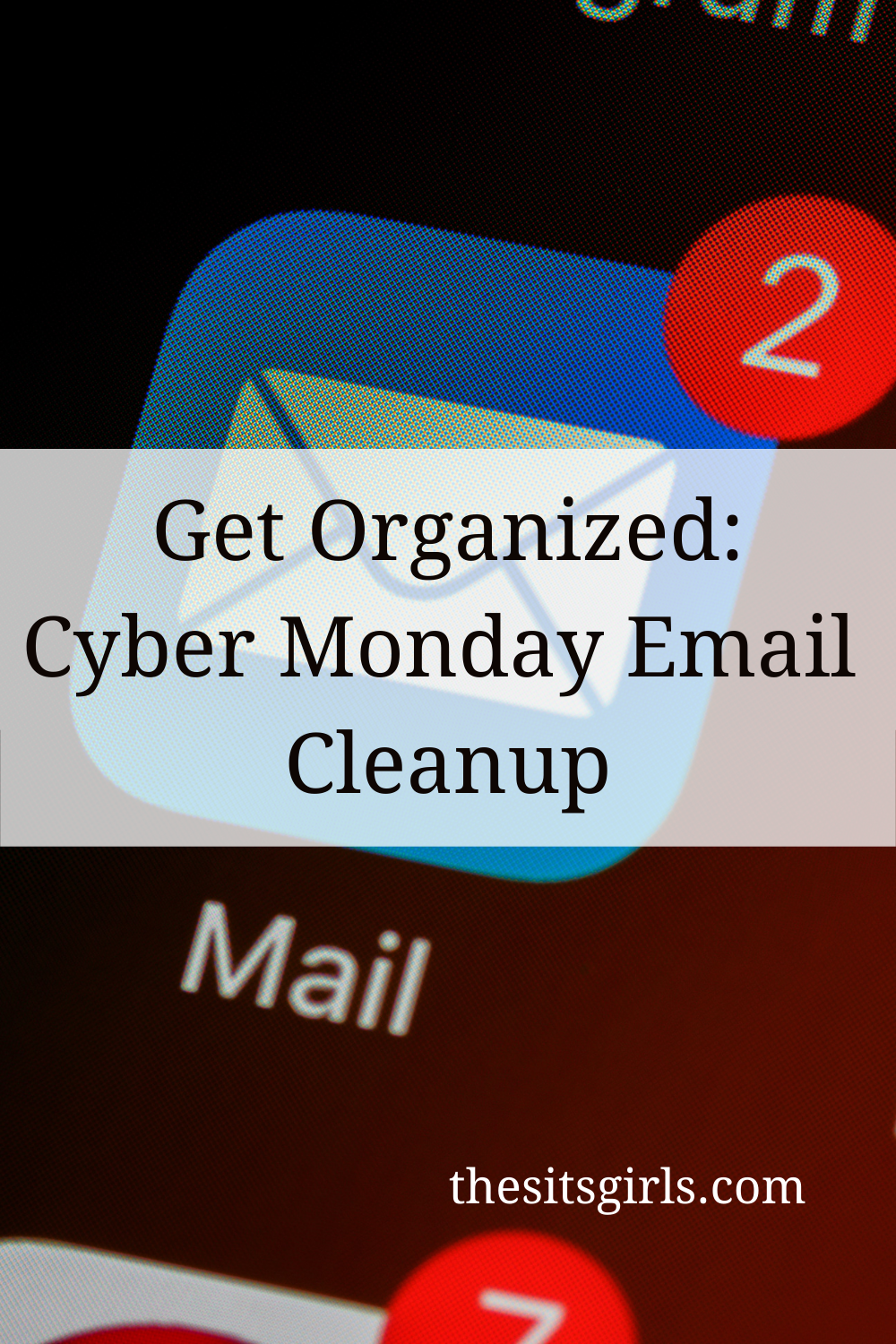 How To Organize Your Inbox On Cyber Monday With An Email Cleanup
Cyber Monday gives you the best opportunity to get your inbox in tip-top shape because almost every contact will be sending you an email that day! Set aside an hour or two (I promise this email cleanup will be worth it in the time it saves you over the coming year) to take a look at each email that arrives that day. You'll want to take one of three steps for each email you receive.
1. Emails That You Want To Receive
Any email that you actually WANT to receive in your inbox, take the time to read, reply if necessary, and then file that email away.
If you use Gmail for your emails, you can easily create file labels by clicking on the file icon and selecting "create new." Organizing the emails you need to keep into files as soon as you have read and responded to them is an easy way to keep your inbox clean. Emails that you do want to receive but do not need to keep should be deleted at this time.
If there is an email that it is particularly important for you to receive, you can also add that email address to your approved senders list by going to settings (gear icon)/See all settings/Filters and Blocked Addresses. From there you can create a new filter, then add the email address in the "from" section, click on "Create filter" and select "Never send it to Spam" and/or "Always mark it as important."
2. Emails That Are Not Spam But You Do Not Want Them In Your Inbox
You probably get a lot of emails that are "real" but not necessarily ones that you care to have crowding up your inbox. These can be newsletters from stores or websites, cold PR pitches, etc.
You can take two different steps to help you clear up all of those "I don't really need this in my inbox" emails. For newsletters and promotional emails, you will typically see an "Unsubscribe" button that you can click. That will either unsubscribe you immediately or take you to a landing page where you can fine-tune the emails you receive. If these are real emails that you most likely signed up for in the past you do not want to flag them as Spam. That can hurt their standing with their newsletter system and cause them to end up in the Spam box for people who do want to receive those emails.
A second option, if you don't want those emails in your inbox but you might want to search for them later, is to send them to archive. Similar to how you set up your important emails, you will want to go to settings (gear icon)/See all settings/Filters and Blocked Addresses. Create a new filter, then add the email address in the "from" section, click on "Create filter" and select "Skip the inbox."

This will automatically archive your email so that it's not cluttering your inbox but is still available if you need it. This is perfect for promotional emails where you might want to hunt for a special discount code, etc. but don't need to read it until that happens.
If you are worried about these emails taking up too much storage you can periodically delete your older emails in bulk during regular email cleanup efforts.
3. Getting Rid Of Spam Emails
Most mail systems do a fairly good job of sending Spam emails to your Spam folder. Those filters, however, are never perfect. I recommend doing a quick scan of your Spam folder at least once every week or so to check for emails that shouldn't have landed there. If you do catch anything incorrectly sent to Spam you will want to make sure you mark it as "not spam" and if it's something important, add the address to your approved senders list.
Emails that you receive that are clearly Spam or that look suspicious should be marked as Spam by clicking on the folder icon you would normally use to file emails.
You will want to avoid clicking on "Unsubscribe" links in suspicious emails as they can take you to unsafe websites and actually increase the number of Spam emails you receive. Merely marking them as Spam will ensure that emails from that address no longer end up in your inbox.
How To Maintain Your Email Inbox Going Forward
After your massive Cyber Monday email cleanup, the best thing you can do is attempt to stay on top of your email as much as possible moving forward. This will keep your email from getting too far out of hand.
If you do slack off on maintaining your inbox as the days go on, never far. Cyber Monday comes back every year!