This post may contain affiliate links which may give us a commission at no additional cost to you. As an Amazon Associate we earn from qualifying purchases.
If you've visited your Google Analytics dashboard recently, you've probably noticed the warning about Google Analytics 4 at the top of the page:
On July 1, 2023, Google's Universal Analytics will no longer process new data. You might see that date and think you have a while to make the switch, but you will actually want to create your Google Analytics 4 (GA4) property as soon as possible.
Why should you make a Google Analytics 4 property now?
We still have some time before Google's Universal Analytics fades into the sunset, but once it's gone you will only have historical data from those properties to reference. Creating a GA4 property now means you'll have a full year of metrics already available when it's time to shift to GA4 exclusively.
For now, there is no firm date when all Universal Analytics data will be unavailable. When logging into your account, you will be able to view previously connected metrics after July 1, 2023. Google is strongly encouraging Analytics users to export their Universal Analytics data in anticipation of a future date when UA data will no longer be available.
How do you know which type of Google Analytics property you are using?
Most analytics properties created prior to October 14, 2020 are using Universal Analytics. You can confirm this by visiting your Google Analytics dashboard and clicking on your account name.

Universal Analytics properties will begin with a UA. GA4 Analytics will begin with a GA4 on mobile, but currently only appear as the number without the GA4 prefix on desktop.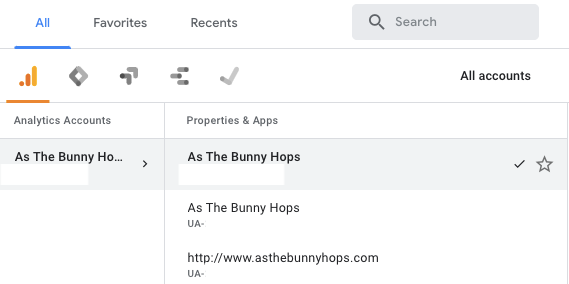 How do you create a Google Analytics 4 property?
If you visit the link provided by Google to assist in setting up your GA4 property it might have looked a bit daunting. The average personal website or blog, however, has a pretty straightforward path to creating their new property.
Visit your Google Analytics and click on the admin/gear icon.
In the account column, make sure you have selected the correct analytics account.
In the property column, select the Universal Analytics property you are currently using and click on GA4 Setup Assitant.
Click on "Get Started" under "I want to create a new Google Analytics 4 property."
Select "Enable data collection using your existing tags."
Click on "Create Property."
The setup wizard should take care of establishing your GA4 Property with basic settings. While following these steps will work for most personal users, it is possible that your analytics were configured in a way that will need personalized assistance beyond these steps.
Please note that it can take up to 30 minutes for your analytics to begin appearing in your new property and you will not have data available from the time before your setup.
How does GA4 analytics impact your Sway dashboard account?
If you are a creator who partners with Sway on sponsored campaigns, you may be wondering if you should update your analytics connection in the Sway dashboard. No action is needed for now, as GA4 properties do not currently pull full analytics into your Sway profile. Continue to use your Universal Analytics property until you receive an update from the team at Sway that we are ready to use GA4 analytics.