This post may contain affiliate links which may give us a commission at no additional cost to you. As an Amazon Associate we earn from qualifying purchases.
Every night after my kids go to bed I am free.  I feel like yelling, "FREEEEDOM!" at the top of lungs, exactly how Mel Gibson did in Braveheart. Okay, maybe I am being a little bit dramatic, but after bedtime, it is ME time. I am sure most moms can relate to that feeling. In our household, Sundays are family day, but Sunday night is solely reserved for watching The Walking Dead. If you love Walking Dead as much as I do (or even if you don't), you probably know we are in the final season of Walking Dead now. It's been a long journey, and I decided to host a Walking Dead Viewing Party for my girlfriends so we could watch the show in style.
Plus it was a great excuse to create a zombie-themed party and maybe even get a little jump start on Halloween. So check out my Walking Dead Party ideas, throw a viewing party of your own, and have fun with all your zombie-loving friends.
Walking Dead Viewing Party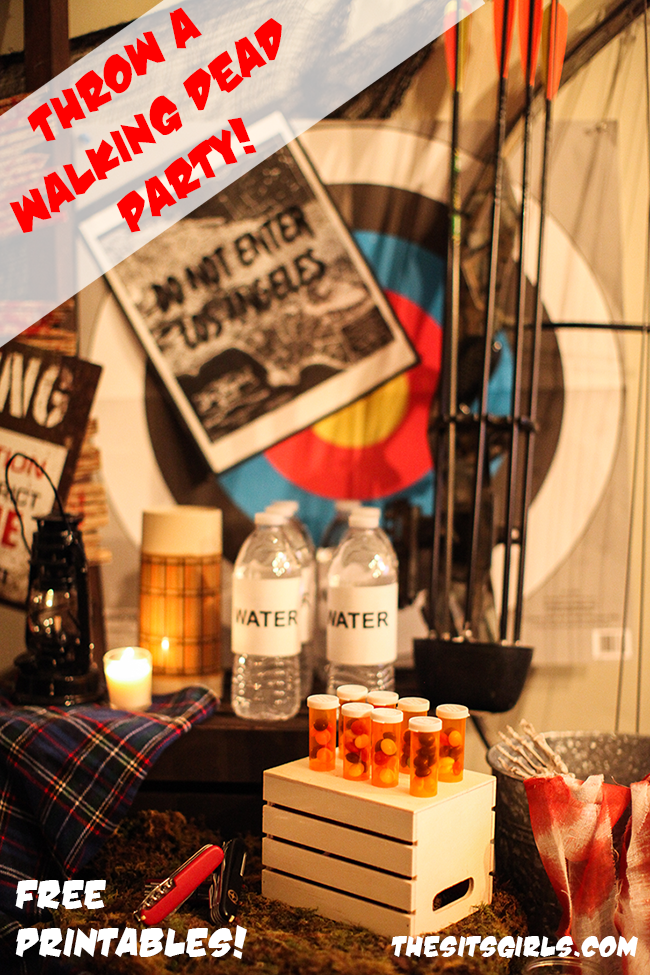 Walking Dead Decor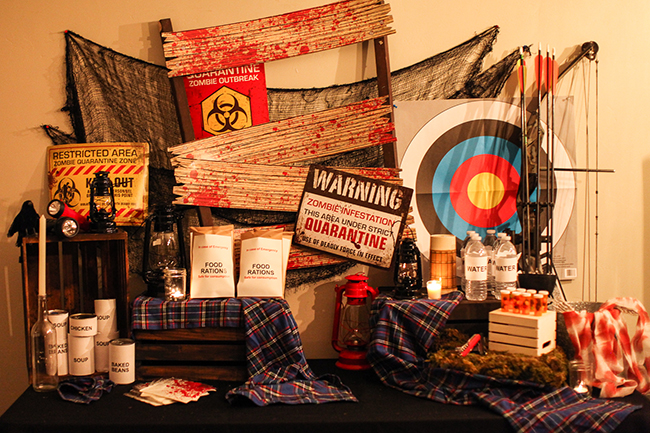 The Walking Dead is a pretty gruesome show, I will say it is not for the faint of heart. However, if you can get past some of the gore, the storyline is awesome. You learn to love the characters and sit on the edge of your seat the entire episode because there are so many unexpected twists, and cliffhangers.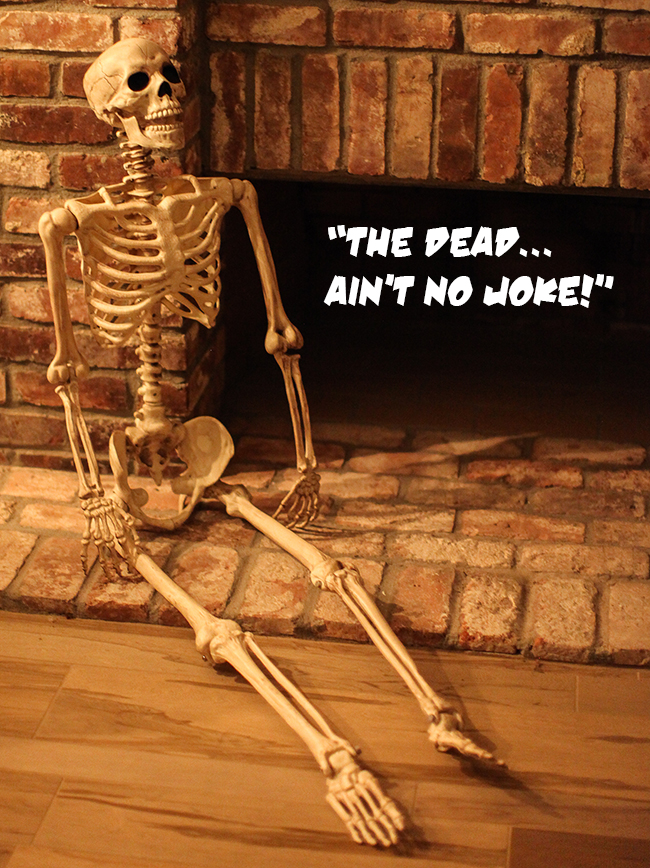 The characters in the show are basically in crisis mode, and always on a hunt for food, medicine, and anything that can help them survive. They often get food from old military surpluses, or stock holds they find. That inspired me to use canned goods as decoration. I covered the cans to make them appear generic like they might have come from the military.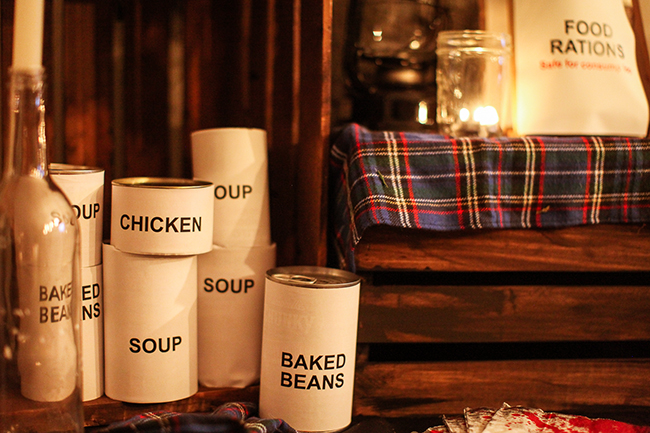 I also added an old bottle with a candle for an added touch of flare. After all, access to electricity is hard to find in the middle of a zombie apocalypse. I draped old plaid around because it made me think of camping, and the great outdoors, which is where they spend the majority of their time. The zombie signs were my favorite because there are warning signs written in various places to keep people from entering an infested zombie area. I think it adds an eerie touch, and helps alert people of any unwanted zombie intruders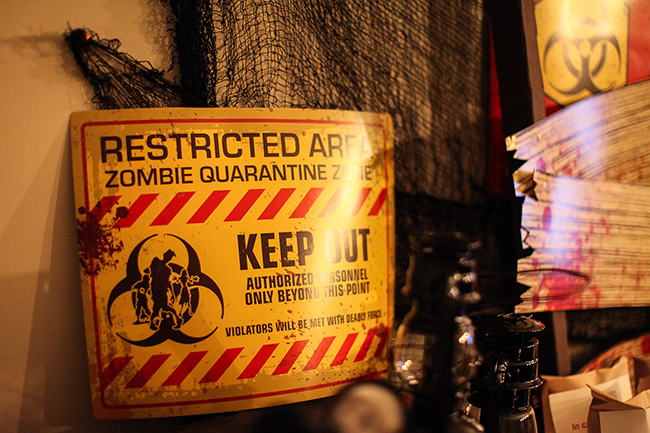 The crossbow was inspired by my favorite character Daryl Dixon.  It is his signature weapon, and he is pretty handy with it as well.  I do not own a crossbow, however, I was surprised to find that I knew a lot of people that do!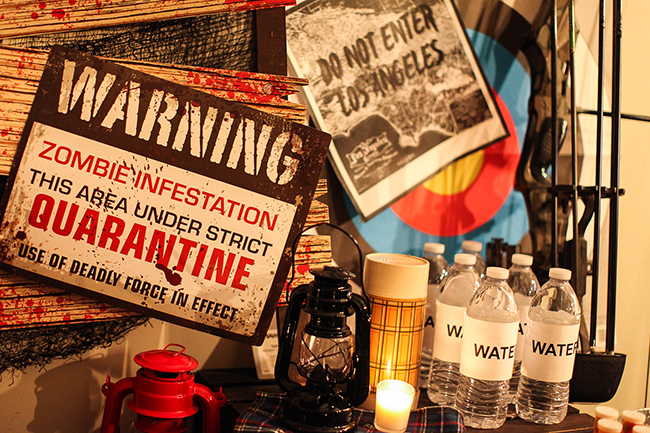 Walking Dead Spinoff Food
These Blood-splattered sugar cookies are my absolute favorite. I personally find them just gruesome enough for the party, but also classy at the same time. I flooded the cookies with icing and then waited for them to dry. Next, I made a blood-red icing that was a little bit runnier and splattered it across the cookies. They are totally perfect for Halloween coming up and would work great at an adult-only party. The best part is, you do not need to be a cookie decorating master to make them.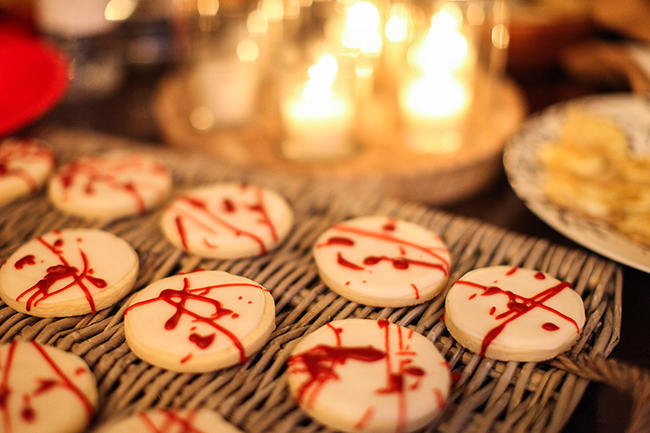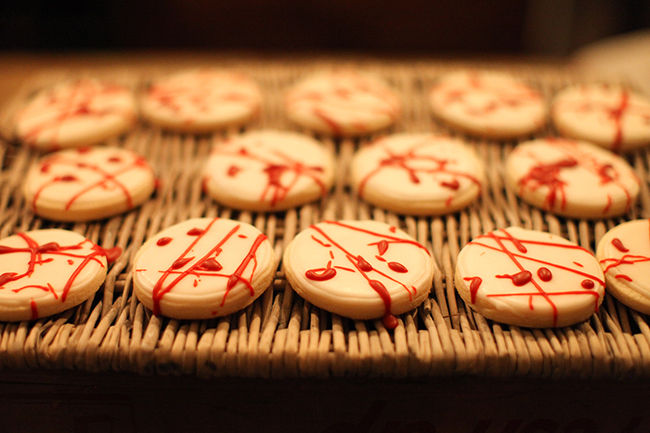 I also made these adorable Food Ration Packets. They were also inspired by the military's emergency food rations.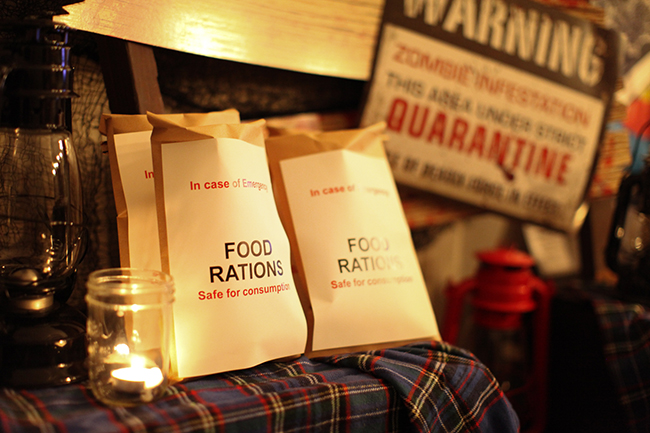 Since my party was a viewing party, I decided my girlfriends would need various theater candy in their packets. I also included hand sanitizer and chapstick, because honestly those are two things that I would need in case of emergency!  The sanitizer already comes in handy with two toddlers, so it would be a must have in the midst of a zombie Apocalypse. These adorable Food Ration Packets were a total hit, and can be reused for so many different party themes!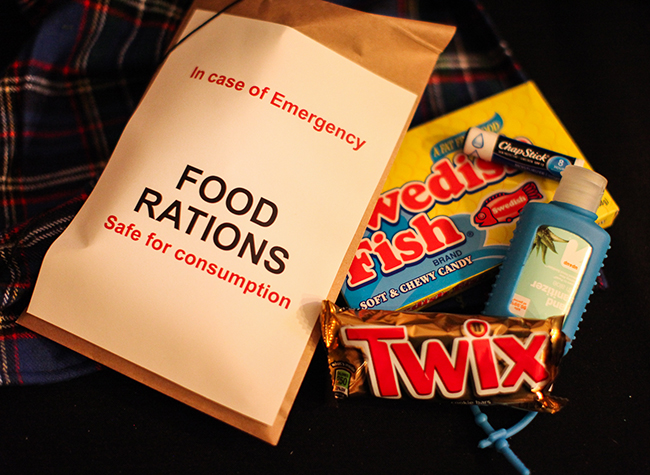 Another item that is important to the characters in these shows is antibiotics! They are always on the lookout for some pharmacies or old hospitals to raid. I put skittles in pill containers and called them antibiotics. After all, sometimes candy is the best medicine for anything.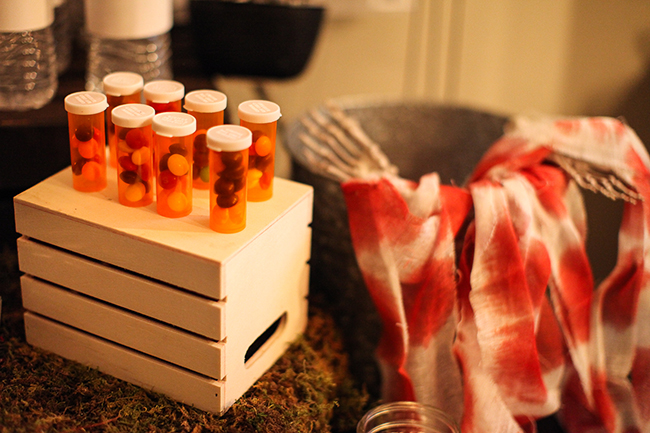 Lastly, it was a must to serve some popcorn, because TV and popcorn go hand in hand. I set mine up in old soda crates, and let the ladies dig in!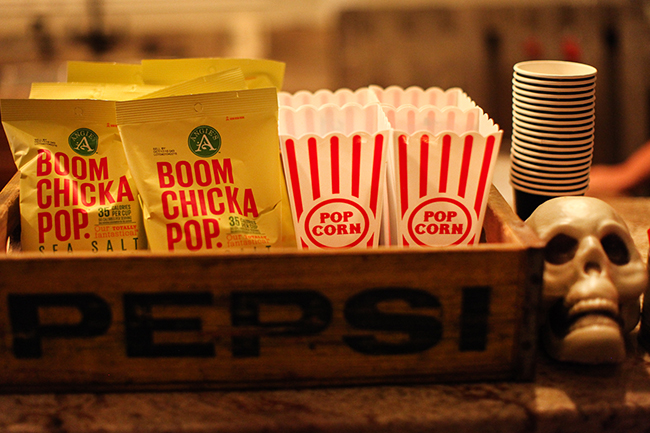 I am now in the mood for Halloween even though I'm kind of sad that we are on the final season of this show.
When decorating for a Walking Dead Party think minimal, outdoors, survival. You can decorate with fishing gear, Beware signs, old pocket knives, and flashlights.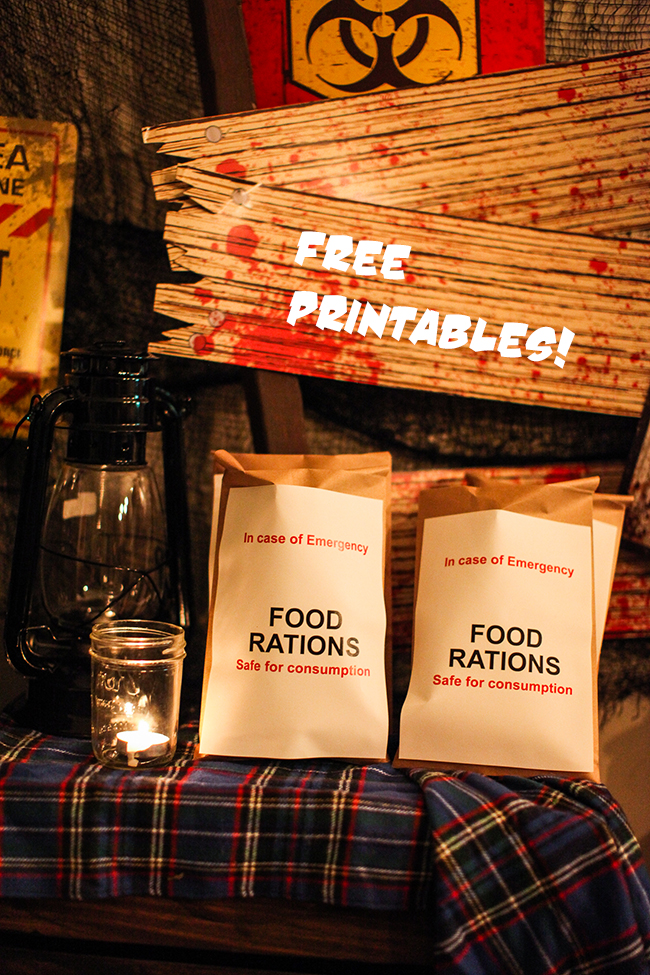 Feel inspired by whatever you have by your house, and the spookier the better! Use our adorable printables, and get ready, you never know when the next epidemic might hit. At least this way you will be prepared!