This post may contain affiliate links which may give us a commission at no additional cost to you. As an Amazon Associate we earn from qualifying purchases.
Spring is the perfect time to take up gardening. Everything is in bloom, the world is a new, and my kids are ready to get outside! Last year my son took asked to have his own little garden. After much thought, we decided to create a Dinosaur Garden. The kids spent hours creating a little dinosaur world, and were diligent about watering their plants. This year I let my daughter pick our garden theme. With the new Little Mermaid movie set to be released this Summer she has been in a mermaid state of mind. She asked for a Mermaid Garden, and I knew I had to deliver!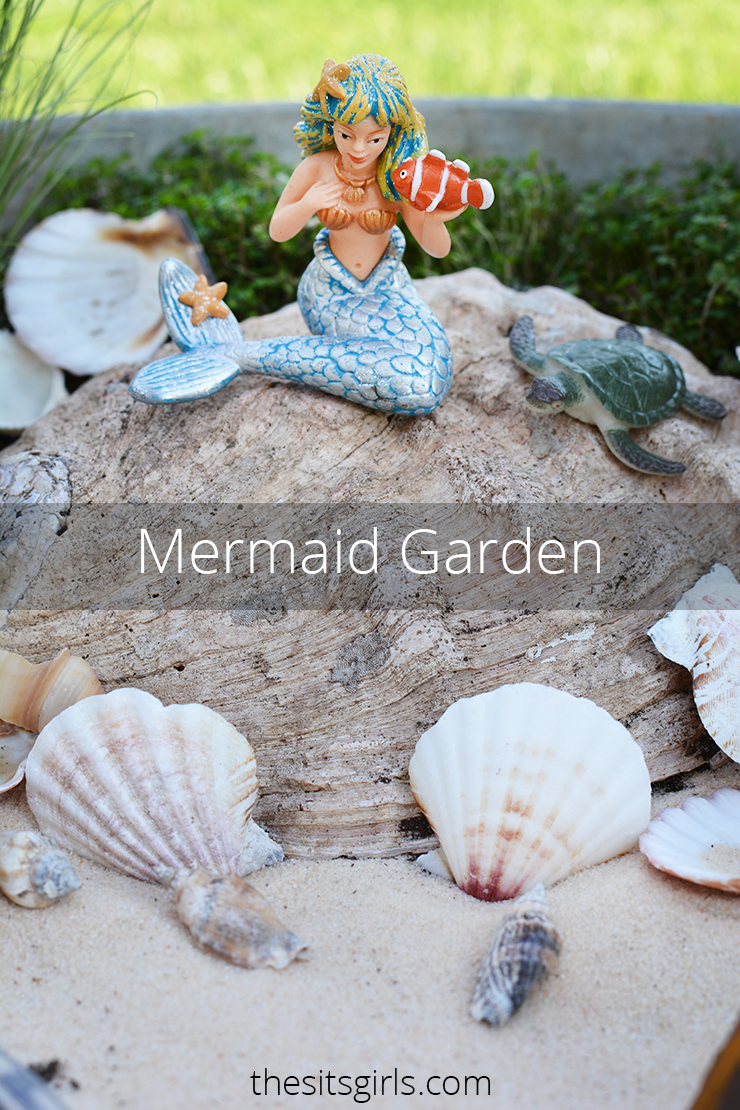 Mermaid Garden
You Will Need These Mermaid Garden Materials:
Mermaid Figurine
Sand
Potting Soil
Various Plants
Seashells
Plastic Bowl
Pebble Rocks
Hot Glue Gun
Tip: Most of these items can be purchased at the Dollar Store. My entire project cost about $20!
Container Garden Tips
The project is pretty basic, and leaves room for a TON of creativity. After my dinosaur container garden last year, I have a few general gardening tips, especially for terrarium style projects like these.
Make sure the tub or container you choose to house your project has a small hole in the bottle to allow water to exit.
Do not over water. Just like not watering our plants enough is bad, watering our plants too much can kill them as well!
Make sure that your container has proper depth at the bottom for the roots of the plants!
How To Create A Mermaid Garden
With the gardening tips out of the way, we can continue on with the mermaid garden. We found a beautiful abalone shell at the beach a couple years back, and I have been hanging on to it for a project. I repurposed it to be the island for my little mermaid to sit on.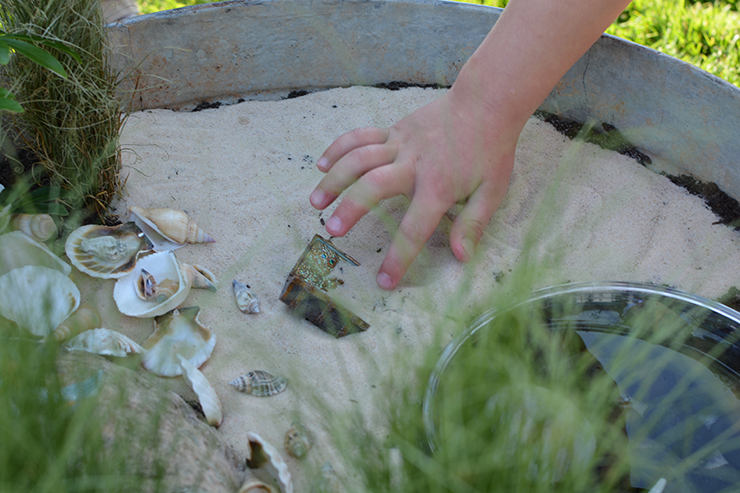 For the plants, I wanted to choose ones that reminded me of the plants that grow on the beach where we vacation in California. There are whispy plants that blow in the breeze and mosses that grow on stones by the water.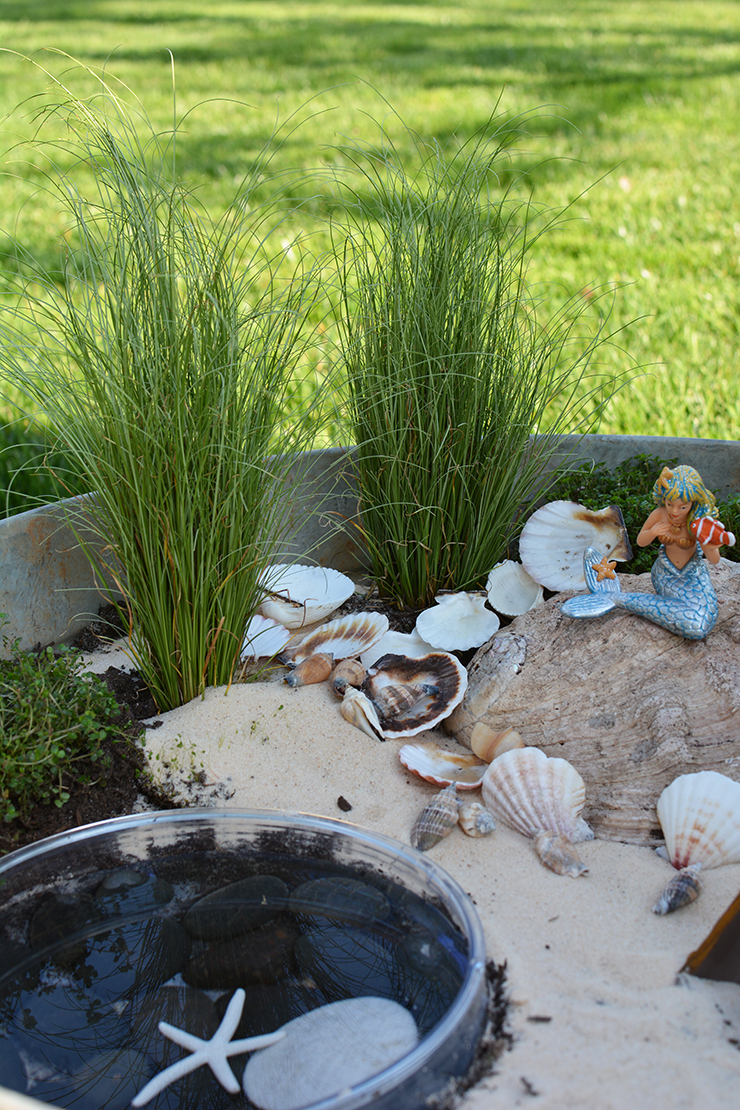 I knew I wanted to include a water feature, but was not exactly sure how. First, I tried to use this shallow bowl to simulate the ocean, but since it was clear you could see the dirt at the bottom, and it was not that magical.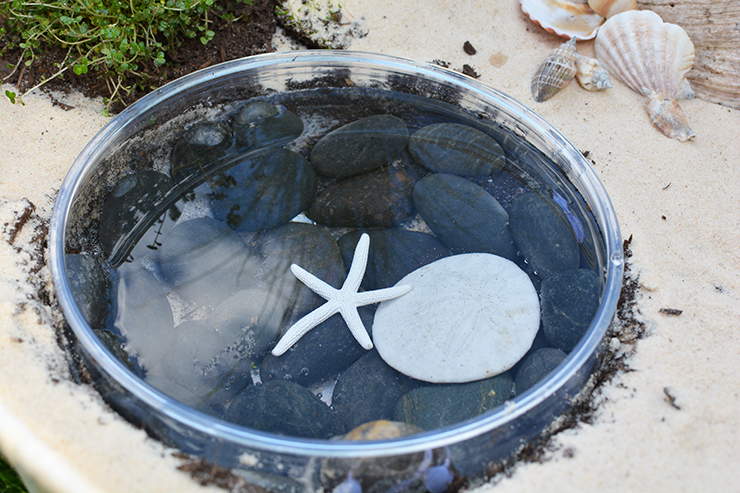 Then I decided to use my hot glue gun to glue black stones all around the inside of the plastic bowl.For a total of $2, I am very pleased with how it turned out! You could use stones of any color. Blue glass beads would look cool, too.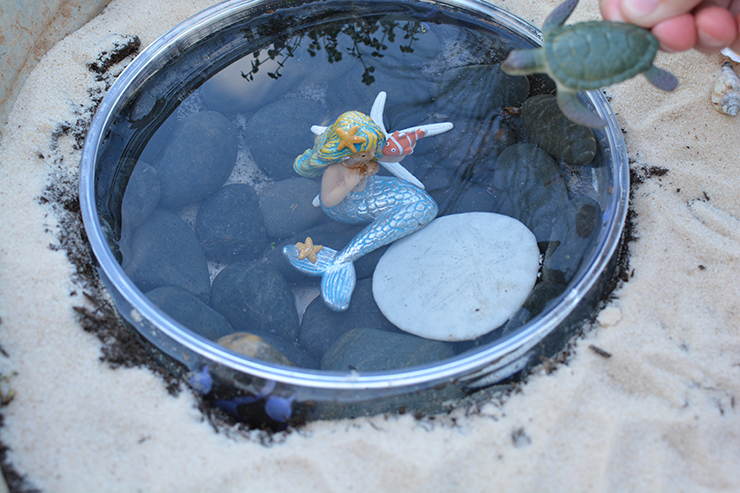 After you have arranged everything to your liking, and planted all your plants, you can cover the top soil with sand. Another fun option would be to used colored or even black sand, for a black sand beach!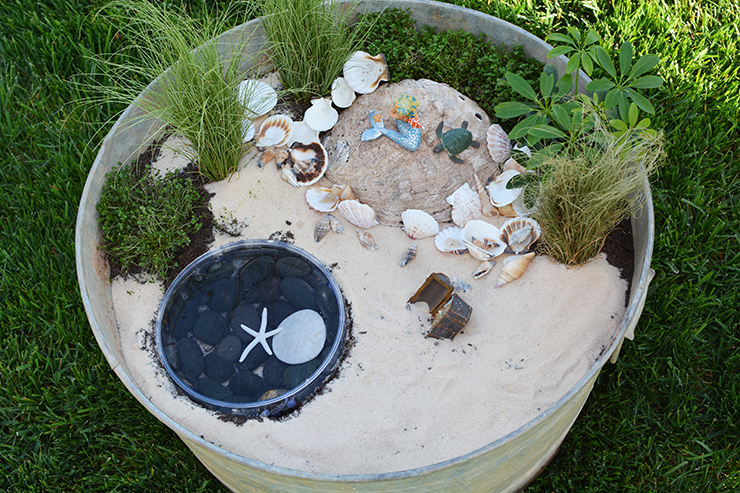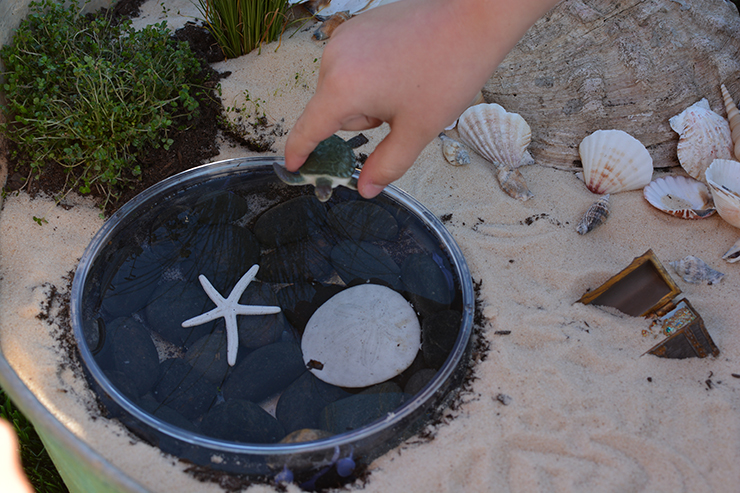 My favorite thing about this project is that my kids were able to participate. My son had some amazingly creative ideas, and totally took the project and made it his own!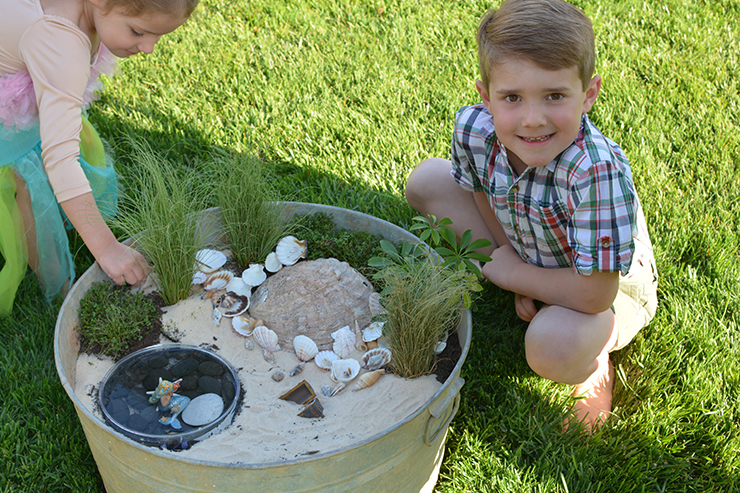 He added some pirates and a squid to create a very Peter Pan-esque scene! This could easily be turned into a Neverland Garden!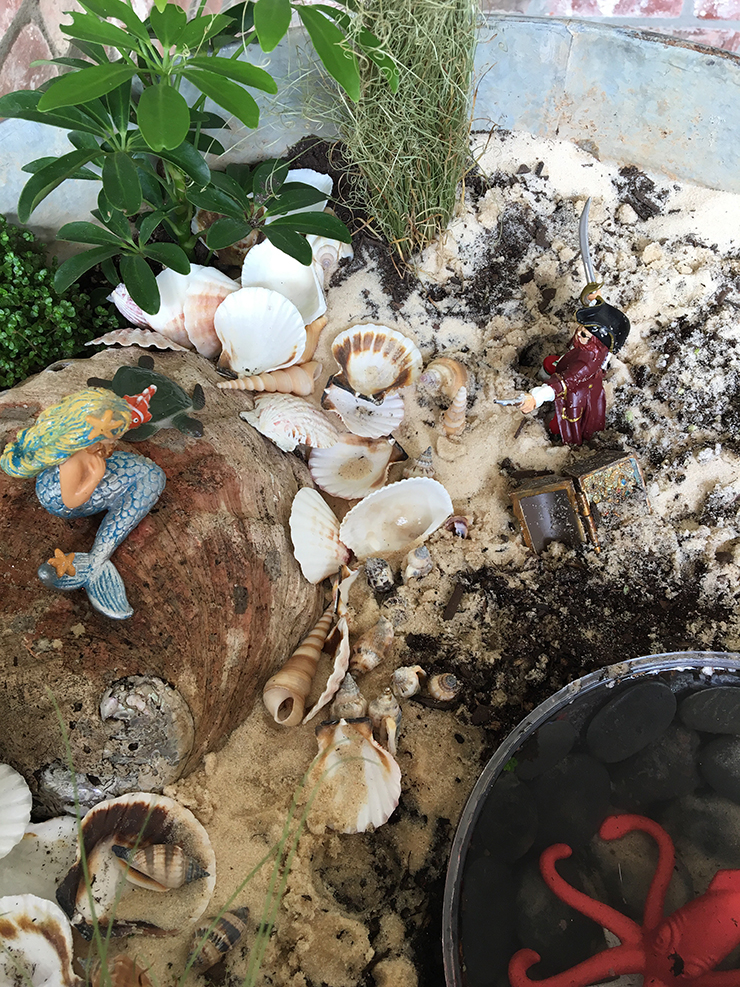 It was so nice to escape reality, and live in a little magical mermaid world for a few hours.
Forget the typical fairy gardens, this summer is all about the Mermaid Garden.
For more container gardening ideas, check out our dinosaur garden and mini herb garden.