This post may contain affiliate links which may give us a commission at no additional cost to you. As an Amazon Associate we earn from qualifying purchases.
Instagram may not always be extremely clear on what kind of content grows accounts and gains consistent engagement, but one thing is for sure, if you aren't posting on Instagram, people won't see or engage with your content! A weekly checklist for Instagram can help give your content a better chance of being seen.
When it comes to being consistent and showing up on the platform there are a few tactics that you can implement to keep you on track and working towards your goal(s) on the platform whatever they may be.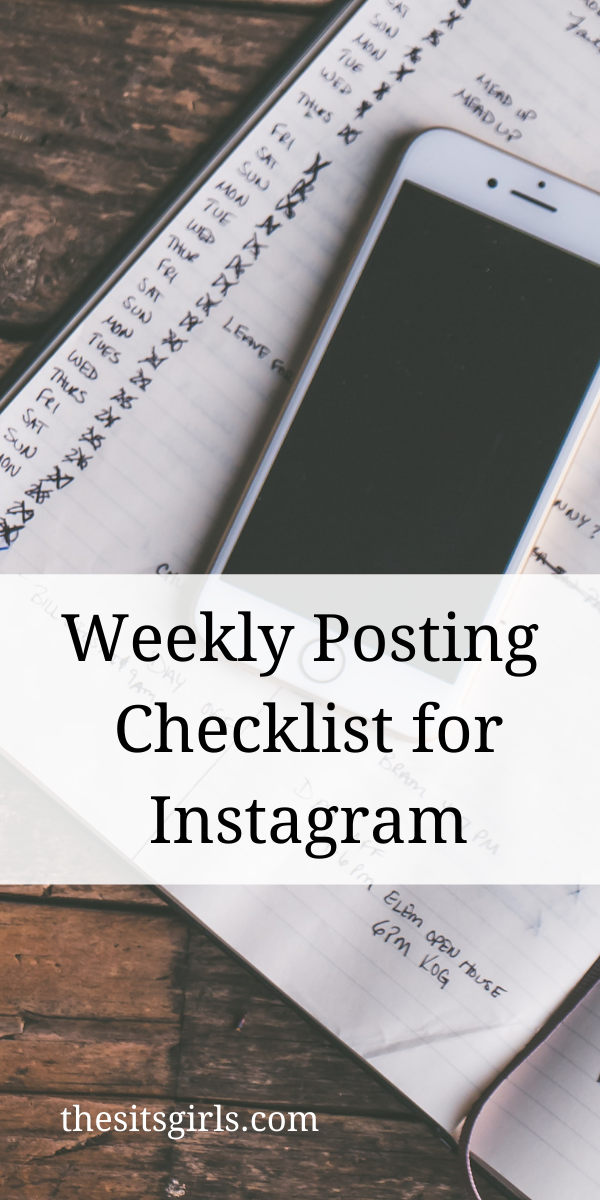 Weekly Checklist for Instagram
Here is a weekly Instagram checklist that you can refer to guide your content creation.
Create an Instagram Calendar
If you've never created a content calendar before, it can be helpful to assign each day a general topic. Mondays could be behind the scenes, Wednesdays are for lifestyle content, Fridays are for a recipe, etc.
You can also take a look at a social media calendar that outlines unofficial social media holidays and see what resonates with your brand. Create content that goes with those days. If you are a great baker there is no reason you shouldn't be posting on "National Chocolate Chip Cookie Day!"
Thinking ahead about relevant topics and content will help you when those days come when you aren't inspired to create.
Schedule your Instagram Posts
There is an option through Facebook Meta Business Suite that allows you to schedule your Instagram posts for free. This is a much better option than the third-party apps (some of which require a paid subscription) for scheduling.
Sitting down once a week to schedule three or four posts that you sprinkle in with spontaneous postings will ensure that at least the majority of the week you have some content going live on your Instagram profile.
Don't overthink the content, you could've taken a picture of a pretty flower you saw while on a walk, post that! Write a caption on how pretty the flower was, or tie it into a story for instant content.
Check Your Instagram Analytics
Here's the thing, you may put a lot of time into the perfect post but your audience prefers your off-the-cuff, real-life posts. How would you know that if you didn't dive into your analytics? It's often the things we think will resonate that don't. And the things we think aren't that great are the ones to go viral! It really is a luck of the draw at times, but you can see what your audience is tuning into your channel for by looking at your analytics.
Taking a weekly look at your metrics is a great way to find out who is looking at your content, what time they are online, and what posts they engage with the most.
That's not to say with this information you will niche down and only post that type of content, but it will give you an idea of where to place your energy when it comes to the type of posts you share.
Follow a Few New People in Your Niche Weekly
Most people aren't just content creators, they also enjoy looking at other people's content. Follow people that are in your niche and have a similar follower count to start growing your community. They just might follow you back and it becomes the beginning of a beautiful friendship.
Remove Instagram Followers
I know, it sounds counterintuitive, but trust me it will help your engagement rate in the long run. If you are able to, when new accounts follow you, give them a quick glance to make sure they aren't spam. If they are spam or seem suspicious you can remove them as a follower right then.
Keeping followers on your account that are bots or don't engage will hurt your metrics in the long run. You would rather have a small but engaged and mighty audience than a large one that doesn't engage.
Engage With Your Followers Accounts
It is likely that some of the people that follow you aren't content creators at all, but are people who just use the platform for fun. Please engage with them on their posts in a genuine way. If they support you, they would love to hear from you on their posts as well.