This post may contain affiliate links which may give us a commission at no additional cost to you. As an Amazon Associate we earn from qualifying purchases.
Periodically making changes to your home can make you fall in love with it all over again. If you aren't already in love with your home, a few changes to the areas that pain you may be the change and solution you need to love where you live.
When remodeling your home there are a few factors you need to consider and your budget is just the tip of the iceberg. When taking the time and resources to facilitate a remodel you need to be very sure of what you want to avoid costly mistakes that may need to be redone in the future.
Before you kick through your drywall Chip Gaines-style, let's discuss some of the things you should consider before any remodel.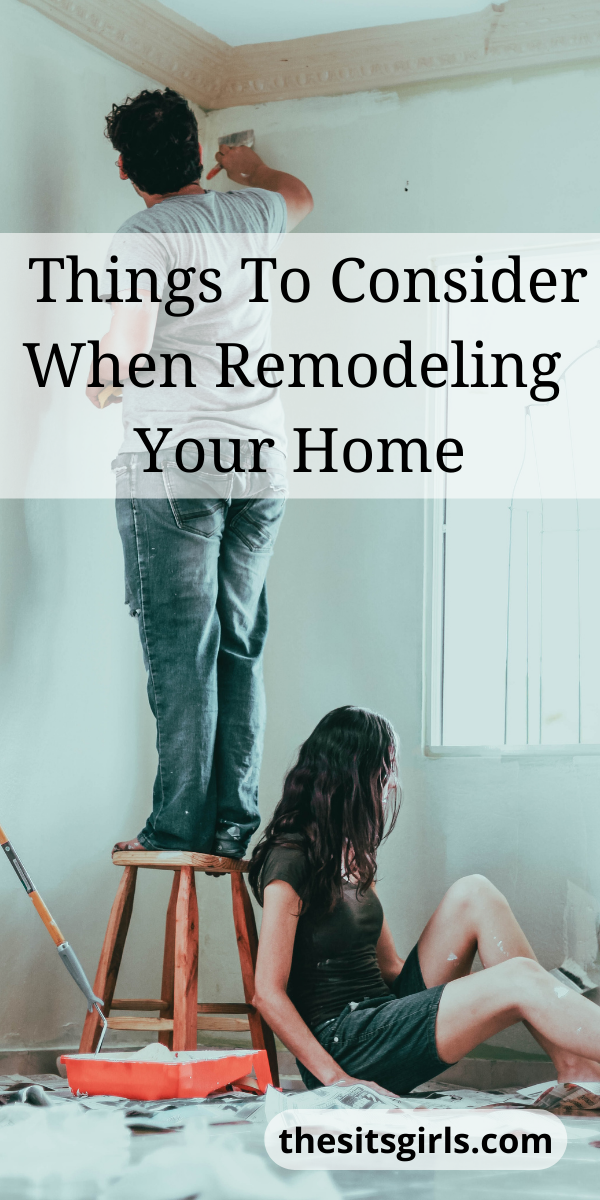 Things To Consider When Remodeling Your Home
Find a good Contractor
Knowing your strengths is key, while there are some areas you can DIY, we implore you to be honest with yourself and know when to call in the contractor. Finding a good contractor can be hard, I'm sure we've all horror stories of the ones that run off with money without completing any work.
Do your research. Ask around for referrals from people you know and don't know. Ask for photos, and make sure they are bonded and insured. Never pay for a full job upfront, if the contractor asks, please run.
Get Cost Estimates Before Remodeling Your Home
Research is your friend. To ensure you aren't being overquoted, do your research and ask around to see what the average cost is for what you are looking to have done. Please keep in mind you also don't want the cheapest contractor either. While you may be saving money on the front end, often you get what you pay for. If it's your kitchen or bathroom, it's always better to be okay with paying a little more to make sure the work is done correctly.
Prepare to Be Inconvenienced
Whatever area is being remodeled means it will be unavailable to you. Kitchens and bathrooms really make planning essential. If you plan to stay in your house while renovations are being done make sure you have plans on how you will function and do your everything day things.
It Will Be Dusty
Renovations are dusty and messy. Months after you are done, there will still be dust! Cover areas with plastic as much as you can, if you are allergic make sure to wear a mask and vacuum/sweep daily to keep a handle on the mess.
Budget Wisely
Overestimate how much it will cost. More than likely what you are told will not be what you end up paying, even if you tell the contractor to estimate on the high-end. If possible, source and purchase your own materials to avoid their markup costs. This allows you to see all receipts and get a more accurate idea of how much the renovation really cost you once it is complete.
Make a Vision Board
It's hard to make on the spot decisions. Look over magazines and websites and put together a vision board of how you want the space to look. Have more than one option for flooring an paint in the event one doesn't work out. It is awful having to make rush decisions on something that feels so permanent so do your homework ahead of time and have a plan A, B, C, and D.
Be Patient
Great things take time, it's so invigorating to see remodeling changes also understanding that there will be delays. Just roll with the punches, a level of stress will come with the remodel don't add to it by being impatient.
Enjoy the process, it won't last forever.