This post may contain affiliate links which may give us a commission at no additional cost to you. As an Amazon Associate we earn from qualifying purchases.
Canva is the best-kept secret when it comes to creating professional-looking graphics for your social media content. If you haven't heard of Canva, or aren't sure how to use it, this post will shed a little light on how you can utilize Canva templates to create eye-catching graphics on Pinterest that will drive traffic to your desired links.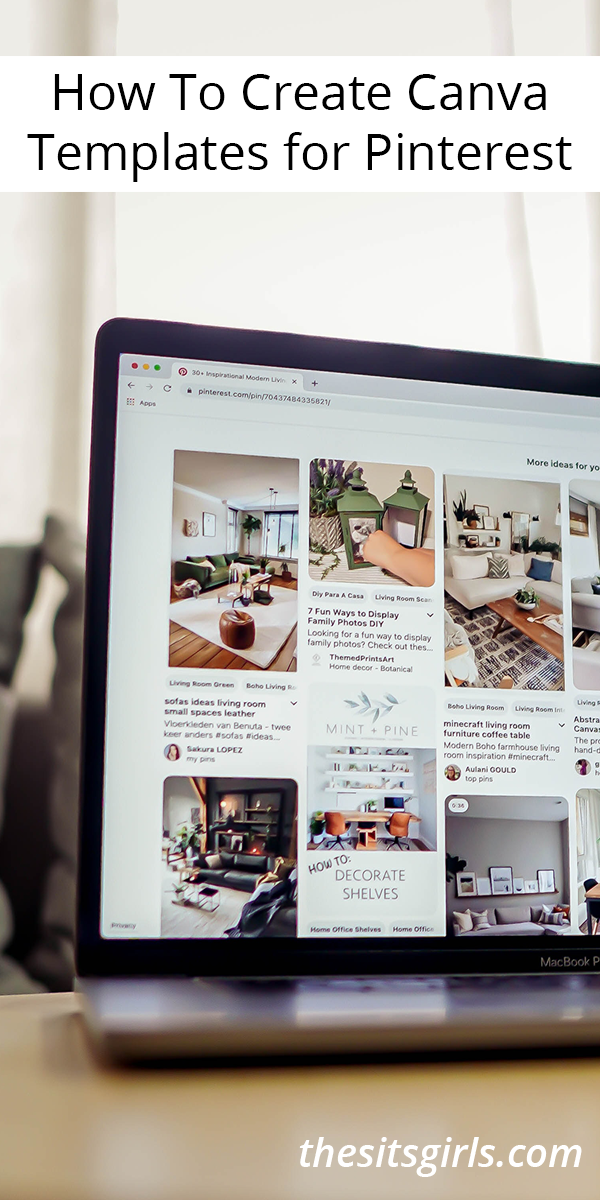 Using Canva for Pinterest
Canva is a web-based platform that offers a free and paid version of easily customizable templates that can be used for a range of things from Instagram posts to resumes and presentations. In this particular post, we'll be looking at how using Canva for Pinterest can not only elevate your content from a visual aspect but can also be helpful in getting more eyes on your content.
Canva is a search engine of sorts that draws interest based on visually appealing content, so it's very important to make sure that your images/videos are crisp, bold, and eye-catching to get the best results. There are a variety of free Canva Pinterest templates that have been designed by professionals that are just waiting for you to customize with your personal brand colors, favorite font, and photos. 
How to Create Canva Templates for Pinterest
When you access Canva via the free or paid version you gain access to a variety of templates. From the homepage, you will want to select the "Social Media" menu item and then select "Pinterest Pin" from the drop-down.  

The beauty of using Canva for Pinterest is that the templates have already been sized to the ideal ratio for the platform so all you have to do is get creative.
From here you will see a list of available Pinterest Canva templates categorized by type. This is where the fun starts! You are able to tweak (or not) the Canva templates, by changing the color, fonts, and images to put some shine on your content.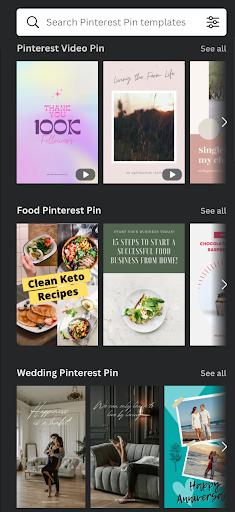 Pinterest prefers long pins, so think of that when taking your photos. Technically vertical images work best, but if you have horizontal images choose a Pinterest template that has been designed with a horizontal image in mind.
Once you are down creating, you'll download the image to your device so that it can be uploaded to Pinterest. 
How to Upload a Canva Template to Pinterest
Once you created your masterpiece now it's time to upload it to Pinterest!
Depending on your version of Pinterest you will see a "plus sign (+) either at the top or the bottom right of the screen. Once you click the sign, you will need to select "Create a pin."
From there you will see this screen, where you will upload the Pinterest template image that you saved to your device from Canva. Be sure to add an SEO-friendly title, a short description, and don't forget to add the link to where you would like to drive traffic.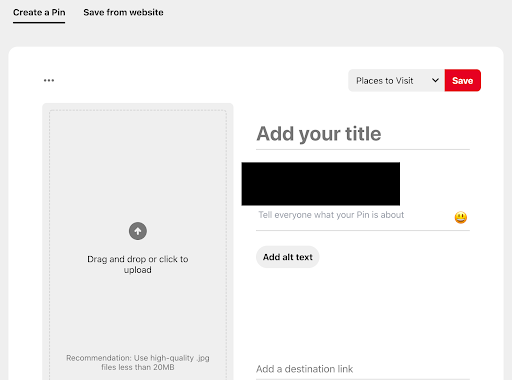 Once you've filled that in, you'll need to select one of your personal boards to add it to from the dropdown in the upper right-hand corner. Once that is selected you hit "Save" and your Pinterest Pin is ready to inspire and educate others! Great job!