This post may contain affiliate links which may give us a commission at no additional cost to you. As an Amazon Associate we earn from qualifying purchases.
Have you seen some the amazing closet makeovers that are popular right now? We find ourselves looking at them in magazines and on Pinterest all the time and wishing we were that organized and fancy. Today, Bree from Stylist Diva is going to share 20 easy tips to help all of us create our dream closet!
If you dream of having your very own beautifully, organized closet, let me help your wishes come true! No matter what your budget is, or how big your closet is you can still create a chic boutique style space to store your duds. My tips are super simple, but will help you create your dream closet.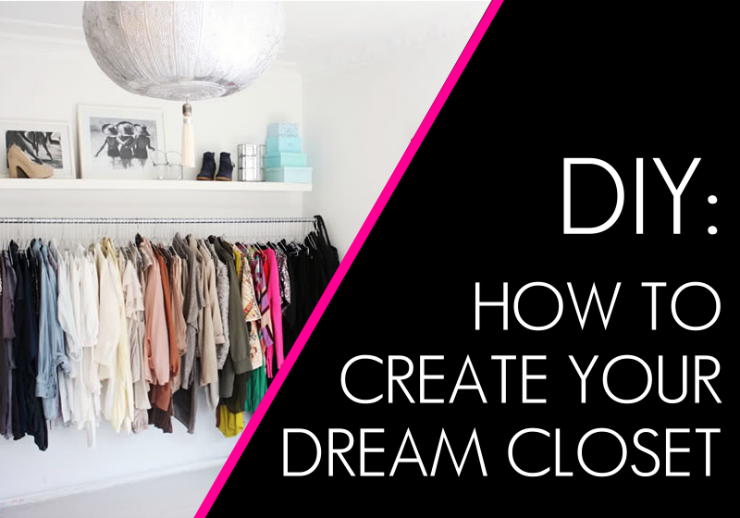 20 Easy Tips For Creating Your Dream Closet
1. Before you begin, head over to Target or The Container Store to purchase hangers, containers, and pretty, patterned storage boxes. These will come in handy when you start to sort. Don't forget a pretty colored sharpie and labels too!
2. Set aside 2-4 hours to attack a small closet or 4-6 hours to wrestle a walk-in!
3. If you can convince your best friend to come over and make it an event, that's even better! Whether she helps or just laughs at your old 80's hypercolor shirts, it's all worth it. So turn on Spotify and let's start!
4. If something hasn't been worn in over a year, and it's not sentimental, sensational, vintage or special occasion…DUMP it, SELL it, or DONATE it.
If you have been a size 12 for 5 years STOP holding on to those size 8 jeans! If you lose weight, you can treat yourself to a brand new pair. And if you stay the same size, stop torturing yourself! You are beautiful no matter what size you are!
5. Ready? Take everything that's not on a hanger out of your closet.
As you remove each item, sort it into one of 6 piles:
KEEP: Only if it fits, is in good condition, and you actually wear it.
TRASH: If it's stained, old, ratty, out of style, or UGLY…DUMP it.
SELL: Good condition but you just don't like anymore, cash is good for new fresh pieces.
DONATE: Charities always need donations in various styles and sizes. Do your part.
PROJECTS: That LBD that's missing a button? Sew it. Make it work.
STORAGE: Pack up those winter sweaters and bring out the bright skirts and sandals!
6. You should have nothing in your closet that is not currently wearable. Toss the spandex, overalls and your high school prom dress. If you haven't worn it in a year, and it's not designer, get rid of it.
7. SEPARATE your clothes into groups, and organize them on your shelves and hangers.
Color: from light to dark.
Type: jackets, blouses, pants.
Style: tank, long-sleeve, etc.
8. Say NO to wire hangers (but take them to the dry cleaner's for recycling!).
9. Use padded hangers for your delicates and velvet hangers for everything else. I love the slim velvet hangers because they give you more room and helps stop things from falling off.
10. Place cute baskets in your closet and label for laundry, dry-cleaning, and alterations/mending.
11. Use double-hanging rods for shorter items.
12. Get rid of dry cleaner plastic covers – they clutter up your closet.
13. Store small loose items in drawer systems or pretty decorative bowls.
14. Put purses and bags on shelves or hooks, organized inside your closet.
15. Take shoes out of their original boxes. Use a shoe storage, or clear plastic boxes instead.
16. Mix and Match. Most pieces you keep should easily pair up with with something else.
17. Your closet is personal. Make it your own. Prettify it. Create your own space with your own style. Display your grandmother's gorgeous jewelry box. If you are a hustler and are aiming to create your own empire, then add pieces that can motivate you and inspire you for the day, like a framed quote or dream board.
18. Congratulations on a job well done! Now take a hot bath, put on your favorite dress, go out and celebrate! The least you can do is treat you friend to dinner. She does have all of your fashion secrets to keep under wraps, ya know…
19. When donating your nice, in-style, gently used clothing, find your nearest Dress For Success and help build the confidence in a woman that truly needs to look and feel her best!
20. Maintain your beautiful closet by repeating these steps every 6 months.
Happy Organizing!
Author Bio: Bree Cooley
Bree Cooley is a Stylist and the Creative Director behind Stylist Diva, a fashion blog filled with Inspiration, Beauty, and Style. Bree inspires thousands of style obsessed readers with each neatly curated post.
During her career over the past 19 years, she has styled some of the biggest names in Hollywood in television, film, and stage. She shares Digital Marketing and Branding expertise with numerous fashion, beauty, and lifestyle brands.