This post may contain affiliate links which may give us a commission at no additional cost to you. As an Amazon Associate we earn from qualifying purchases.
It never fails that I get the chance to share my tips at The SITS Girls right about the time that I need my own reminders! Timing is everything when it comes to creativity, isn't it?
How many of you get stuck in your blogging journey and just want to throw in the towel, cry in a pillow, or run and hide from your draft folder? I know I do, sometimes, and it's usually because I've fallen prey to a few of the things I'm going to share with you today!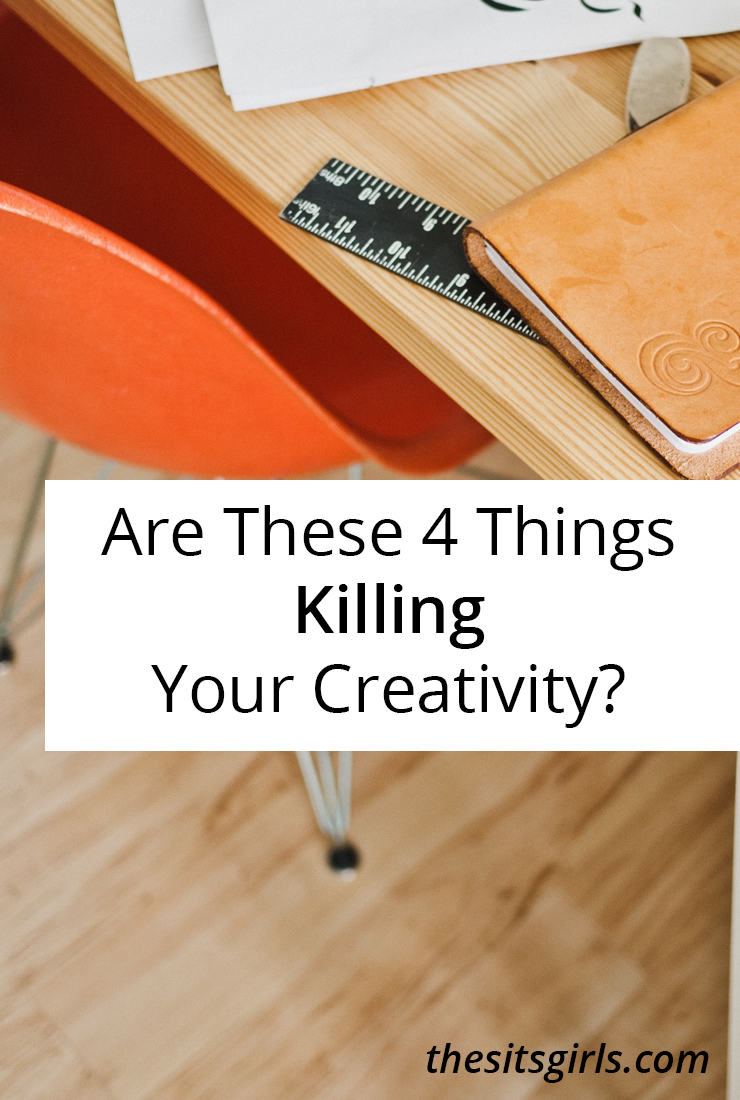 4 Things That Could Be Killing Your Creativity
There's plenty of things on this blogging journey that keep us from being at our creative best, but there are four things that could be killing your creativity which deserve a mention today!
1. The Comparison Monster
Nothing kills your creativity faster than a good dose of the comparison monster. It's so easy to fall into the pit of comparing your blog, writing style, or niche with that of another (seemingly) more successful blogger. We visit others within the blog community as a part of the steps in building our own. It's only natural that we take notice of other blogs, but it's dangerous when we let ourselves fall prey to comparison.
"Comparison is the thief of joy." ~Theodore Roosevelt
Don't let comparing yourself to others get in the way of your own unique gifts. We each have something that no one else can bring to the table-ourselves. Stay true to you!
2. Lack of Preparation
You might have a ton of blog post ideas reeling around in your head, but if you don't take the time to organize them, that's where they'll stay. Make planning your blog posts a priority. Begin by jotting down your ideas in a journal or type notes into your phone on-the-go. Have you heard of mind mapping? Try it! It's my all time favorite way to create post ideas. Once you have your ideas a little more organized it's easier to plan your content.
"Ideas are like rabbits. You get a couple and learn how to handle them, and pretty soon you have a dozen." ~Jonh Steinbeck
3. Perfectionism
Stop worrying about your work being perfect and start creating something. Anything! There's the age old argument of quality vs. quantity in blogging, and while I agree with this wholeheartedly, I also think that waiting for the perfect post will leave us waiting a very long time. Some days, you just have "rip off the band-aid" and hit publish! Free write for the therapy of it and share your heart. If your writing is honest and real, someone, somewhere will relate. That's what really matters on this journey!
"Have no fear of perfection – you'll never reach it."  ~Salvador Dali
4. Fear
Don't be afraid to write your truth. Don't let the worry of what others will think get in the way of your voice. Take risks, face rejection, and then get up and do it again! Fear is paralyzing. It has a way of freezing precious time that we could be using to reach our goals and dreams. Time we will never get back. What are your fears when it comes to blogging? Make a list of the things that stop you from trying and start striking through them item by item!
"Success is often achieved by those who don't know that failure is inevitable." ~Coco Chanel
Your Turn
Can you relate to any of these things standing in your way? Let go and create something amazing today!
Want More Blogging Tips?
If you enjoyed this post, keep reading!