This post may contain affiliate links which may give us a commission at no additional cost to you. As an Amazon Associate we earn from qualifying purchases.
I remember being so excited for our class Valentine's Day party. Each Valentine's Day I would work for days writing my name on all of my cards. My mom would package them in a brown bag and place them neatly in my backpack. The day before the party we got to all design our own valentine card boxes. It was such a fun expression of self, and a cute way to get excited for the party the next day! This year, use a cereal box to create a Valentine Mailbox — we have four super cute ideas you will love!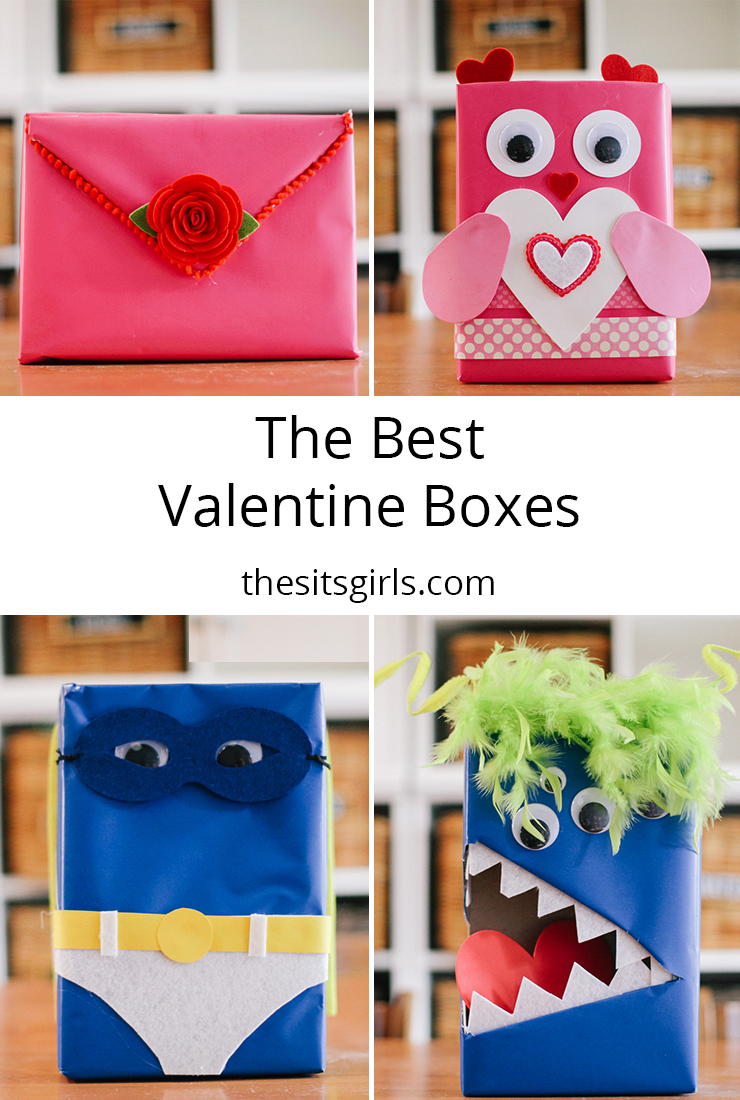 The Best Valentine Mailboxes
Valentine Mailbox Materials List:
Note: this post contains affiliate links which may give us a commission at no additional cost to you.
How To Make A Valentine Mailbox
I am going to share four different designs with you today: owl mailbox, superhero mailbox, classic letter mailbox, and the monster box. The base for all four Valentine mailboxes is a cereal box. I used tape to secure the top flaps of the boxes when needed and cut various openings for cards!
Classic Letter Valentine Mailbox
View video instructions here.
For this box, the first thing you want to do is tape and secure the sides of your cereal box. Make sure to tape them down and make them really sturdy so they will hold up. Cut open the box on one of the long sides, and then wrap it in wrapping paper.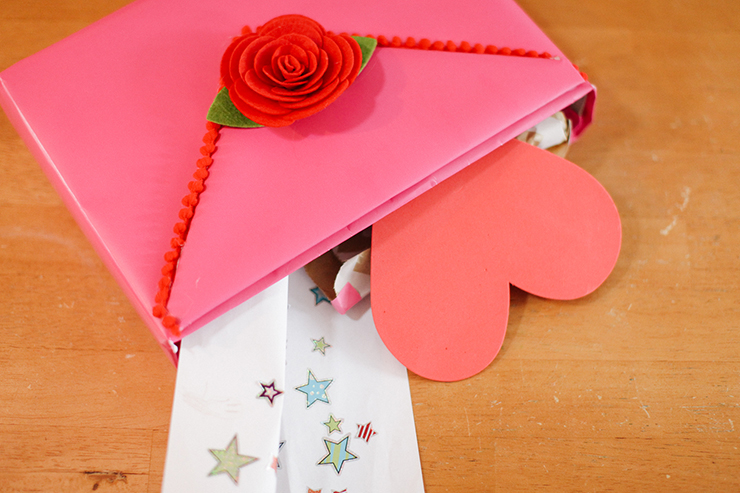 Next you will take another box and cut a triangle out for the envelope flap. Cover this flap in wrapping paper, too. Take a piece of ribbon or pom-pom tassel and glue it to the edge of the flap. Apply glue to the back side of the flap and glue it to the front of the box. Glue your flower on, and you are done! This is such an easy way to create a faux flap. You could even tie ribbon on the back of the box to hang them from the back of a chair.
Monster Valentine Mailbox
View video instructions here.
Love something whimsical and a little more silly? The monster box is the perfect for you! I chose blue wrapping paper for my monster, but you could use any color. The first step is to secure the flaps at the top of the box, and then cut the mouth. Make sure to cut the mouth wide enough so cards can fit in it, and you can pull them back out.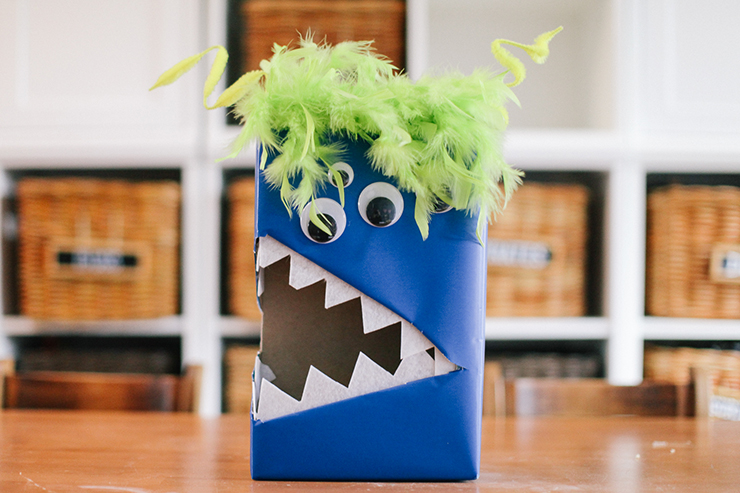 I used felt and cut zig zags for the teeth and then glued them in to the inside of the mouth. Arrange the googly eyes in whatever pattern you want. The fun feather accent on the top for hair was cut from a feather boa. I attached this with my hot glue gun, and then twisted pipe cleaners to create antenna.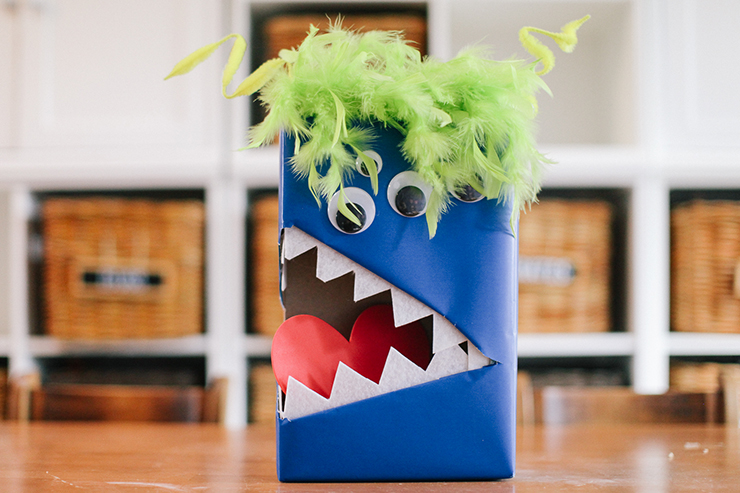 Owl Valentine Mailbox
View video instructions here.
The owl mailbox was my favorite to make. It looks super impressive and complex, but the design was done using precut hearts bought from the craft store. I used felt hearts, paper hearts, paper circles, and foam hearts to turn the box into an owl!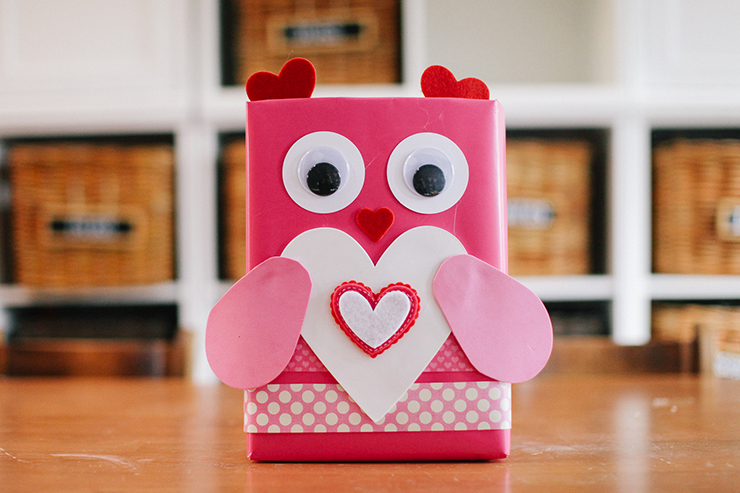 To make the wings I cut a foam heart in half and then rounded out the pointed sides. I cut stripes out of paper to go around the bottom. You could use washi tape, too! The ears were made with small felt hearts!
Superhero Valentine Mailbox
View video instructions here.
My son totally flipped out over this superhero box. To make things extra easy I actually bought a package of precut masks at the craft store. They were 4 for $2, so I thought that was a pretty good deal. I drew his little superhero briefs free-hand on a piece of felt and then attached it with hot glue.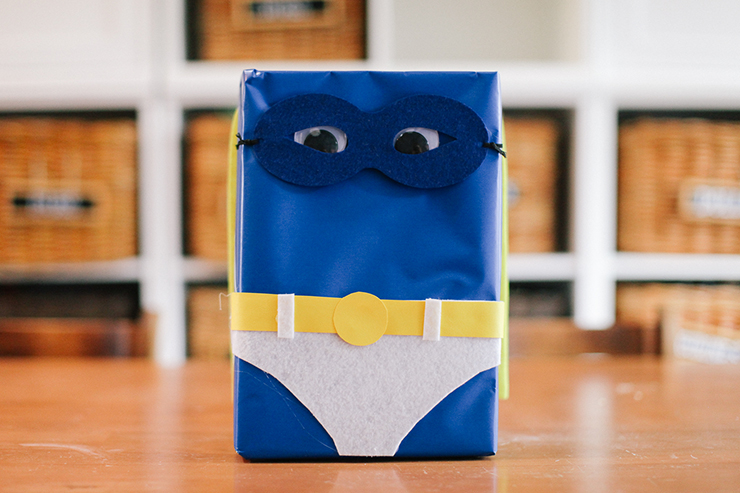 The belt I made from paper, and then I attached a matching yellow felt cape! The cape was actually a standard 8×11 sheet that you buy at the craft store for fifty cents! The opening for this box is located directly at the top!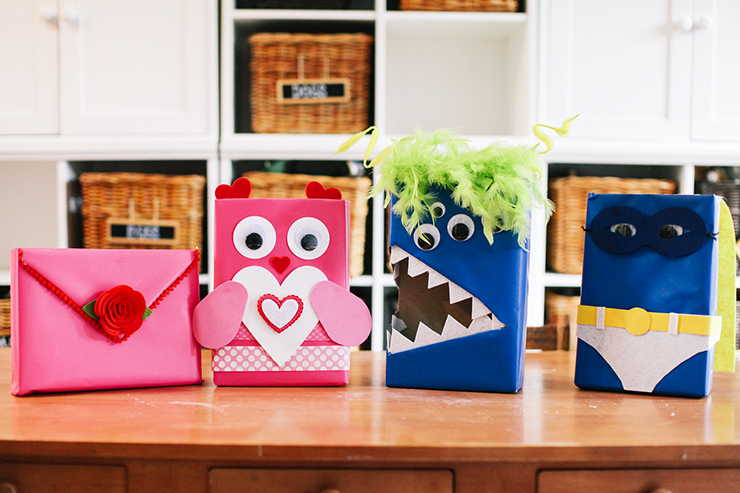 The best part about this project is that you can customize your Valentine mailboxes any way you want. You could make a pink monster or a pink superhero! You can do a blue owl or a blue envelope box. The options are endless.
Happy Valentine's Day!