This post may contain affiliate links which may give us a commission at no additional cost to you. As an Amazon Associate we earn from qualifying purchases.
Valentine's Day is just around the corner and that means one thing in my household…treats! This year, instead of the usual treats of chocolate, conversation hearts, and roses, we decided to be a little more health conscious. I learned how to make strawberry rose bouquets, and they are going to be a sweet alternative.
I am a huge fan of edible gifts for Valentine's Day, especially edible fruit baskets, but not a fan of the cost. Making your own strawberry roses is the perfect answer. You will look like a top chef with these masterpieces!

Strawberry Rose Bouquet
Equipment:
Small Knife
Wooden skewer
Strawberries
How To Cut Strawberry Roses
To begin making your rose, stick the wooden skewer firmly into the middle of the strawberry. Cut four small slits evenly around the bottom of the strawberry. Move up to the middle of the strawberry and repeat the petal cutting process, alternating your second row of petals like scales on a fish. Cut a third alternating row of petals near the top of the strawberry.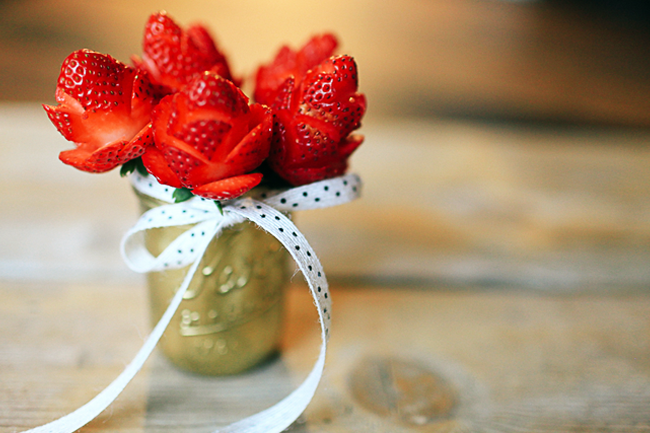 Finally, use your knife to separate the "petals" from the base. Voila! You now have a beautiful strawberry rose.
These make a great gift for Valentine's Day, but you really can't go wrong with a strawberry rose bouquet any day of the year.