This post may contain affiliate links which may give us a commission at no additional cost to you. As an Amazon Associate we earn from qualifying purchases.
We were stunned recently to read that 70% of people watch Instagram Stories with the sound off. And when we posted about it in our Facebook group, we got 289 comments! Whoa! With such a great response, we decided to dig around a bit more. And we discovered that there are powerful reasons for adding captions to your stories. Here's why you should do so, and also an easy tutorial for how to add captions to Instagram Stories videos.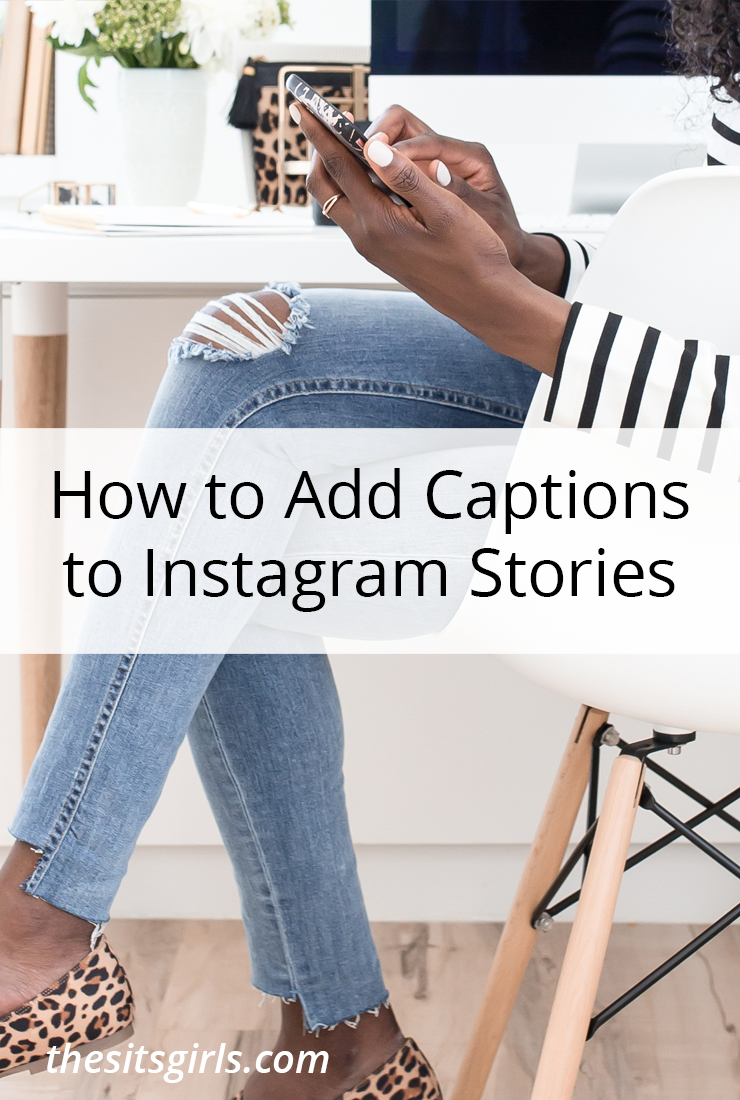 How to Add Captions to Instagram Stories Videos
First of All, Why Should You Add Captions to IG Stories Videos?
This question has multiple answers, but most importantly, it's about accessibility and being intentional about inclusivity. People who are deaf or hard of hearing may want to watch your stories, but without captions, your IG Stories videos aren't accessible for them.
When we asked about watching Instagram Stories with sound on or off in our Facebook group, we saw that people watch stories with the sound off for a multitude of other reasons, including:
They're listening at work and don't want co-workers or supervisors to hear.
They're in bed and their spouse is already asleep or trying to go to sleep.
They're nursing a baby.
Their children are nearby. I don't know about you, but my kids gravitate towards the sound of internet noise. They're always curious, and it's not always appropriate for them to see or hear everything that pops up on the screen.
They are concerned about autoplay. The stories keep going beyond the one they intended to watch.
In all of these examples, closed captions would make it possible for your followers to enjoy your IG Stories videos.
And What About Engagement?
Accessibility boosts engagement. If you add captions to your stories, people won't skip by them. Not a lot of users take the time to add captions to their stories, so it shows both care and connection. It's yet another way to set yourself apart on Instagram!
Not only is it a great practice, but it can increase view time. I equate it to what it's like to watch TV with closed captioning. Personally, it makes me stick around longer. If the volume is off or low, I lose interest faster and leave the room. You don't want people to "leave the room" on your stories!
And It Makes you More Real
This is the why not only to adding captions, but to doing video stories at all. It makes you more vulnerable and real to post without the use of still images and filters, and that helps you build trust.
How To Add Captions To Instagram Stories
Right now, there is not a setting within Instagram for creating open captioning, so you are going to need an additional app to help you add captions.
Use Clipomatic to Create Instagram Stories Captions
To get started, record your video and make sure you speak CLEARLY. Clipomatic has good voice recognition, but it isn't perfect.
You can do your whole recording within the Clipomatic app. There is an option to change your font, and one super cool thing is that you can choose from a variety of speech bubbles, which can give it a comic book/graphic novel feel if you like.
You can edit the captions word for word and save your video when you're done. I made a video that was 60 seconds long.
As you know, Instagram Stories are 15 seconds or less per frame. What to do?
Use Cutstory To Make Your Video Clips The Right Length For Instagram Stories
Cutstory is a free app. You can upload your entire video and Cutstory will turn it into 15 second frames that are perfectly timed, and they keep the captions you added with Clipomatic intact.
Then, you save the video, and it's ready for your stories!
And that is how you make Instagram story captions!
All in all, it doesn't take long – especially once you get the hang of it. You can certainly do it in only minutes.
Until Instagram makes a closed captioning option within the app, using Clipomatic, or using Clipomatic in combination with Cutstory is a wonderful option.
More Instagram Tips