We are passionate about helping you grow your blog and make money online. This blogging resources page includes some of our favorite tools, products, and classes to help you build a successful blog.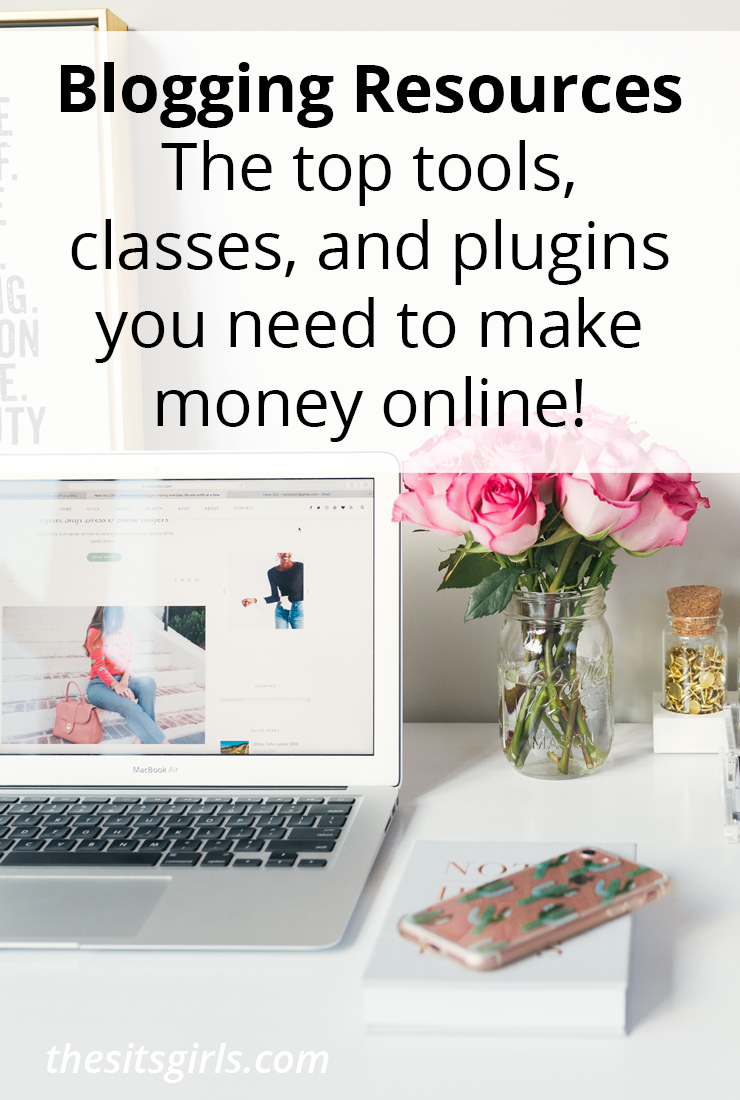 Blogging Resources
There are some affiliate links below, and we may receive commissions for purchases made through some of the links in this post, but all of the blogging resources on this list are things we have tested and loved.
Starting A Blog
If you are setting up a brand new blog for the first time, or giving new life to an old blog, these blogging resources will help you start strong.
Website Hosting
There are a lot of blogging platforms out there, but the most popular and easiest to customize is WordPress. When you build a blog on WordPress, you will need to set up hosting for your blog. We recommend SiteGround website hosting. They have great customer service, and you can get started for only $3.95 a month! This step-by-step tutorial will teach you how to start a blog in less than 20 minutes.
Blog Design
A great way to customize the design and feel of your blog is to use a premium theme. We've gone through a LOT of themes since 2008, and have always had good experiences with Genesis StudioPress Themes. If you aren't sure how a WordPress theme works, this StudioPress 101 guide will help you choose the theme that's a perfect fit for your blog.
Photo Editing
This is a must-have resource for any blogger! PicMonkey's online photo editing app is powerful, yet easy enough for even a beginner to use. PicMonkey is great for photo editing and blog graphics. They also have templates for invitations, postcards, signs, and graphics for social media.
Grow Your Followers and Subscribers
The MiloTree smart pop-up is the easiest, fastest, and cheapest way to grow your social media followers and email list. You can integrate Instagram, Pinterest, Facebook, YouTube and your email list. MiloTree is Google-friendly, GDPR compliant, and fully customizable. You can install it as either a WordPress plugin or a simple line of code. They offer a 30-day free trial, so you can see how well it works for you.
Time-Saving Blogging Resources
One of our favorite things to do is to learn ways to be more productive. If we can learn how to shave a few minutes off of a task we do several times a day, the time savings over a month or a year is significant!
Pinterest Scheduler
The key to making Pinterest work for you is maintaining a consistent pinning schedule. We do this by using Tailwind. Tailwind allows you to schedule pins and look at the analytics related to your pins and Pinterest boards, so you can see what is working and what is not. It saves us a ton of time every week. Check out this tutorial to see how Tailwind works, and try it yourself with their free trial that allows you to schedule 100 pins for free.
Blogging Classes You Don't Want To Miss
Most of these classes are self-paced, and you can work through them as you have time (while still wearing your pajamas)! These classes are a great way to invest in yourself and your business.
Instagram Better
We love the step-by-step Instagram advice in the Instagram Better course from LaShawn Wiltz. She teaches you how to build an authentic community with a focus on engagement that will keep your Instagram profile strong as you grow. The course includes modules that cover: the algorithm, how to define your niche, developing a content plan, growing engagement, Instagram Stories, and more! Instagram Better is self-paced, and you will have access to any future updates LaShawn makes to the course.
Pinning Perfect
Pinning Perfect is the best Pinterest class we've tried. Anna and Melissa cover everything from image creation and making your blog Pinterest-friendly to the types of boards you need, pin descriptions, creating a pinning schedule that works, and more! Pinning Perfect is self-paced, and you will have access to any future updates they make (it was most recently updated in June 2018). You will also receive access to a private Facebook group with monthly office hours where you can ask questions.
For more blogging advice, check out our blogging tips and tutorials.