This post may contain affiliate links which may give us a commission at no additional cost to you. As an Amazon Associate we earn from qualifying purchases.
Are you ready to get more followers on Pinterest, and ultimately drive traffic to your blog? We're dishing on the step-by-step approach on how to do just that today! Read on to find the details you need to take your blog to the next level.
If you're a fellow newbie blogger (oh hey there!), or even if you've been going for a while, I'm betting you've seen (and just a tad envied) those elusive, oh-MY-how-has-her-site-become-so-successful bloggers out there.
But then…No one is reading your blog and no one leaves comments on your posts. No ones raving about how awesome your site is. It's a gloomy time. And an INSANE amount of blogs go through this phase, who then end up quitting. The thing is though, no matter HOW great your blog is, if no ones heard of it, it's not going to get off the ground.
And that's where the SECOND key to success comes in; promotion and to get more followers on Pinterest.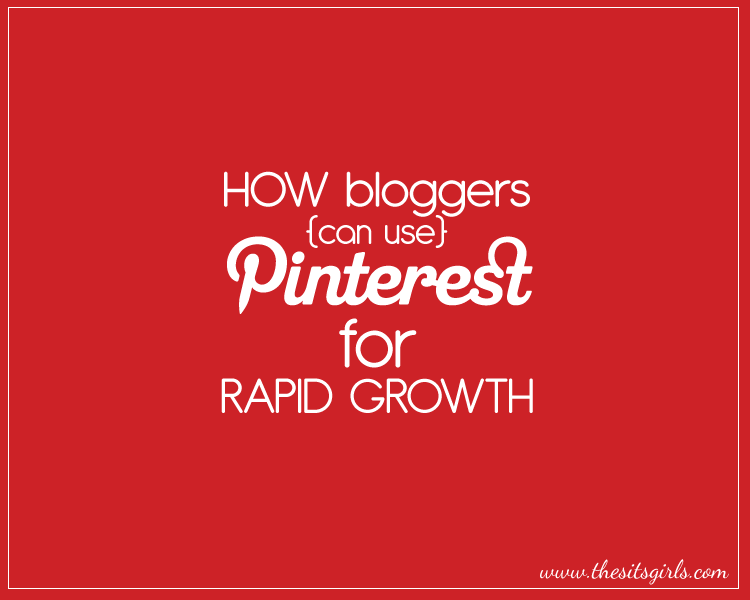 How Bloggers Can Get More Followers on Pinterest
You need to get your blog OUT there for it to survive, and Pinterest is quickly becoming the go-to platform for us newbie blogging ninjas to utilize.
I started my own blog A Chic Lifestyle just over 7 months ago in fact, with a laser focused attitude on promotion –  and I've seen the biggest amount of growth I've ever had with a new blog thanks to Pinterest (and that's SAYING something people, because I've been blogging since I was 'yay high – aka 11 years old!).
So I wanted to share the nitty gritty on exactly what I'm doing to reap the rewards of Pinterest, and decided to create a case study as detailed and informative as I can covering the last 7 months.
But first – what kind of results did I get by promoting my new blog on Pinterest?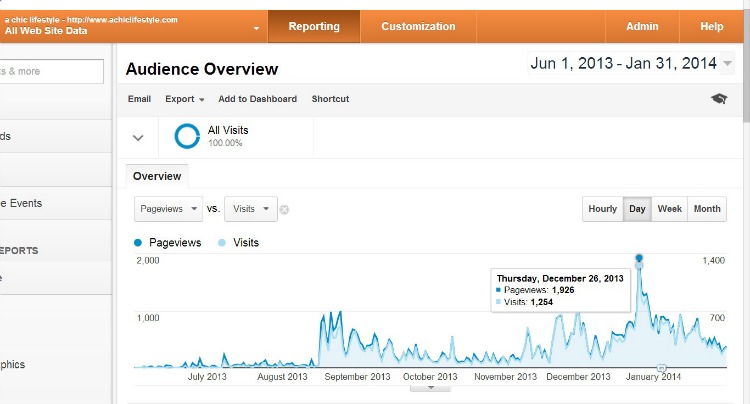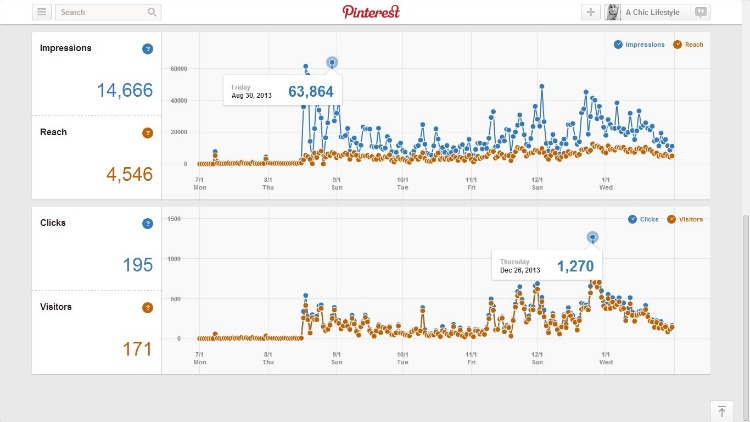 Pinterest is hands down the most rewarding social media network I'm on!
62% of all traffic to my blog has been from – you guessed it, Pinterest. Which has delivered over 50,000+ pageviews between June 2013 (my blogs birth) to January 2014
The most clicks I've had solely from Pinterest to my blog in 1 day has been 1,270 so far – not bad for a newbie at ALL
Content on my blog was pinned and seen 63,864 times on Pinterest in 1 day
Content on my blog has been pinned and repined thousands of times on there since June too
How I Used Pinterest to Get Results
1. I built a follower base on Pinterest by:
Creating and inviting people to my community boards like Simply Chic
Creating a distinct style on Pinterest that would cater strongly to my target audience ONLY (don't try to please everyone; like the 60 year old gardening fanatic AND Michael-Kors-loving teen Pinners. You'll only dilute your appeal).
I deliberately focus on students only, with a specific taste in fashion (laid back and cool). I create boards SPECIFICALLY for them and their needs, like "effective study tips" and "treats under £50", for my budgeting fashion lover, who wants to do well at school.
So make sure you know who you're targeting, and how you can appeal to them (only!) by meeting their needs.
I know it can feel counter productive to alienate others outside of that 'target zone', but trust me, it's much more beneficial that you cater to your target audience specifically, and make your blog/Pinterest really speak to them.
So just ONE more time, because it's THAT important *ehm hint hint* – be SPECIFIC, SPECIFIC, SPECIFIC *phew, well I got that out of my system*.
2. I made my posts Pinterest friendly (more on that in a few minutes!)
3. I partnered up with another pinner to cross-promote our content.
I bumped into Studentrate on Pinterest a few months back, and realized that not only did they speak to the same type of people I did (young students interested in fashion and saving money), but they also had a relatively similar fan base size as me (we were both in the thousands, but Studentrate had more).
I emailed them about cross promoting each other on Pinterest, and we loved the idea and agreed to invite each other to 3 of our boards, so we can pin each others content and promote our sites.
This has been THE biggest driving force in bringing new readers to my site, as I'm exposing my content to brand new viewers, and I tend to get over 3 times as many re-pins and click-through's when I pin my content on our shared boards, than on my individual ones.
4. I created community boards (which are Pinterest boards that you can invite other pinners to, so they can upload photos on the shared board) and invited hundreds of people to join me in pinning there.
The great thing about this is that if people decide to join, your community board (with a follow button to your Pinterest profile) will appear on their profile, so you're increasing your exposure, as well as getting some brilliant people to contribute to the boards.
And don't be afraid to do this even if you're a small pinner.
I created my first community board with only 200 followers (Simply Chic) which went on to grow to 6,000+ followers in less than a year, with over 300 contributors!
How to Replicate My Success and Drive Traffic to your blog:
1. Do you see another pinner who's targeting the same group of people as you? Get involved with them by:
Offering to contribute to their community boards with relevant pins (including some of your own posts – but my best advice here would be to ask permission first, otherwise it may look like your spamming their followers with promotion for your own site only. And there are only 3 syllables to describe that, people: a-nnoy-ing.)
Partner up with them and cross promote your content.
2. Make your posts Pinterest friendly (hang in there, specific advice on this coming right up!)
3. Create your own community boards and invite other pinners to join.
What pins brought in the most visitors to my blog and why (analysis):
Here are the top 4 pieces of content from my site that have been pinned the most onto Pinterest, and why they became so shareable:
They all solve a significant problem among my target group (students), like procrastination, investing in a new camera and getting A grades. So the how-to-guide pins did really well.
They all include high quality, attractive pictures.
They all feature the title of the post on them (the most popular 2 have larger, easier to read titles than the others. So this is something I'll replicate with future posts).
I used the caption space in all of them to reiterate the benefit of clicking through to my site, for the full post. E.g. for picture 3 I wrote "5 Resources that Will Improve Your Productivity (And ASSASSINATE Procrastination)" – it's short, to the point, and clearly communicates the benefit I'm going to give to my readers (resources to help them stop procrastinating).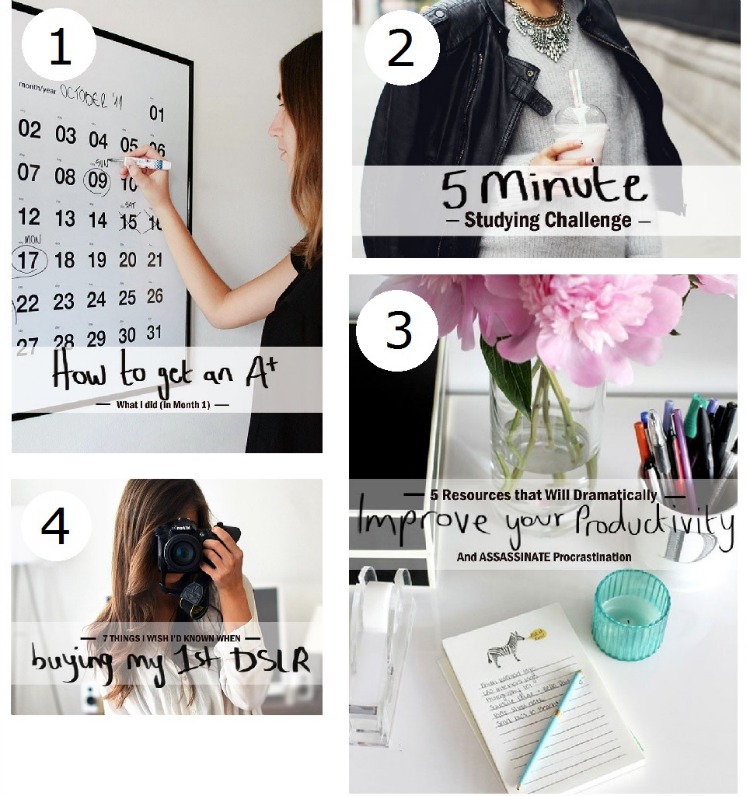 How to optimize your content for maximum exposure on Pinterest:
Step 1:
Choose high quality and gorgeous photos (which always do better on a visual platform like Pinterest) for your posts.
Step 2:
Add attractive titles (that make it clear what problem you're going to solve) to your images in large, easy to read (even when shrunk down on Pinterest) fonts.
Step 3:
Use the caption space to make it clear what problem your post will solve.
Step 4:
Install a 'pin it' hover button on your blog (so if a visitor on your blog likes a post of yours, they can simply hover over the image and press 'pin it' – remember: the easier you make it for them, the more likely they'll be to share your post).
Your Turn
So do you think it's time you started benefitting from Pinterest too?
Here's your first mission, if you choose to accept:
1. Choose 1 post of yours and update the 1st photo with the title on it. Then pin it onto Pinterest with a caption that explicitly says the problem your post will solve.
And I'd love to see you in the comments section below! Let me know:
If you're already using Pinterest (or other social platforms, like Instagram/Twitter/Facebook) to promote your blog – what kind of results are you seeing? Is there a particular platform that's driving the most traffic your way?
And do you have any other tips on promoting your posts?
About the Author:

Hey, I'm Sanam Mohammad. The sarcastic, high aspiring (almost bordering on the point of being nuts) student blogger, encouraging young women to pursue their big-to-insanely-HUGE ambitions at A Chic Lifestyle. If you have any Q's or need a hand, then let me know on Twitter @AChicLifestyle!
 Ready for More? Keep Reading!
If you enjoyed this post on how to get more followers on Pinterest, keep reading! We have more for you.