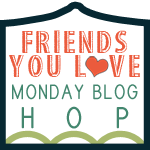 Today my guest poster for the last week of the Friends You Love Blog Hop is the fabulous Rebequita who I have only known a short while.  She writes a plus size fashion blog that I as a plus size lady love!  So here she is..
Hi there! I am Rebequita Rose from Rebequita's XL Fashion Blog. I am truly honoured to be guest blogging on Stephaine's fabulous yummy mummy blog BabesRockInMami and I am really hoping you will enjoy my contribution to her blog.
As you can probably guess from the title of my blog, I blog about XL Fashion, aka, plus size fashion; although my blog is mainly a sort of photographic record of a lot of my daily outfits, so it could be argued that it's more of a personal style blog than anything else. 

I started blogging about a year or two ago after stumbling across other plus size fashion blogs completely by accident. I thought it was such a wonderful and beautiful thing to do, that I could not resist the temptation to try out starting my own fashion / style blog myself. 
Prior to that, for many years I struggled with loving my body and accepting my size. For a long time I felt and thought very negative things about my body, and it really made me limit myself in many ways, including my fashion choices. As a teenager I truly and deeply hated my body. I felt fat and ugly, and I hated myself for it. All I wanted was be thin, and I used to hide the fat monster I believed myself to be at that time, behind black baggy clothing, and I stuck faithfully to those clothes / outfits I felt safe in. 
Fast forward to my early twenties, and my feelings and perspectives started to change completely. I was taken to see an endocrinologist in Venezuela who put me on diet pills. Within six months I lost over twenty kilos and was down to a UK size ten. I felt amazing. For the first time in my life, I was completely happy with my body. I wore all the things I liked, but hadn't worn before because I felt to fat to. Of course, my body isn't designed to fit into size ten clothes by nature, so as soon as the pills ran out, I gained all the weight back, plus some more. 
At first, the weight gain returning scared me slightly, but once it all came back, along with some more, I realised I still felt good in my own skin. I realised that it wasn't my weight / size that made me who I was / am. It was the person I was in inside that made me, me. So I embarked – almost subconsciously – on this journey of being me no matter what my size. I didn't stop wearing what I had once thought of as being 'skinny girl clothes' when the weight came back. I didn't revert back to feeling miserable because I was a big girl. I felt happy and wore whatever I wanted, and never looked back. 
The liberation I felt at that point, was, and still is, priceless. I felt so happy about myself that I wanted to share it with the rest of the world. I wanted to spread my joy with the world and prove to other plus size girls / women out there that you can be big and feel good, comfortable and wear whatever clothes you like! 
A lot of people think of fashion blogs / personal style blogs, as being narcissistic and distasteful. Now, I'm not saying that there aren't blogs out there that aren't like that, but, I think plus size blogs in general are particularly un-narcissistic in that they are usually all about inspiring and empowering other plus side women to have the strength to wear things they would like to wear, but are too afraid to because of the body they live in. Of course, there are always exceptions, but in general, plus size blogs are all about being fat-positive, and fighting fat prejudice. 
On that note, I must say, that in order to fight fat prejudice, – something which I, along with many others, consider to be the last acceptable tabu in society – one could chose to write / discuss topics that are unrelated to fashion. So why fashion? 
For me, choosing what to wear is one of the most basic forms of personal expression. It's not the only form of expression out there, but it's up there with body language and the energy we give off to others, because it forms part of the first impression we make; and whether we like it or not, most people will judge us based on how we look. Seriously, how many people really ascribe to the idea of never judge a book by it's cover? Don't get me wrong. I am not saying anyone must dress to impress. I'm just saying, dress in clothes you really, genuinely like, not just whatever you can fit into, simply because you can fit into it, and at the same time, express yourself. Have fun with the clothes you wear, whilst letting your clothes reflect who you are on the inside.  
I'm not saying I never have days when I don't feel great about myself. Everyone has days when they feel rough about themselves. Everyone. Myself and the tall, skinny supermodels included. I'm also not saying that I think every last inch of my body is perfect and flawless. Trust me, I don't think that of myself. All I am saying is, that we all have bits we like better than others, and we all experience days when we feel crappy. There is no such thing as perfection, and there is often beauty in imperfection. If you ask me, the problem isn't knowing what we don't find particularly attractive about our bodies, or those days when we feel more like the beast than the beauty. The problem is allowing those negative thoughts, feelings and opinions control our lives to such an extent that it paralizes and limits us. 
I made a decision a few years ago that I would not allow myself to not do anything I would regret not doing. I don't want to wake-up one day when I eventually start to feel old, and look back on my life with regret because I didn't so something as simple as wear the clothes I like, or the styles I prefer. I've done the whole wearing something because it fits even if I don't like it before, and it was depressing. There are a lot more fashion choices out there now-a-days for us fuller bodied ladies, so why make do? 
If you are happy to live hiding in dark, understated, baggy clothes, that's fine. I'm not hear to dictate to anyone how they should live their life, or how they should dress. I just want to make unhappy fat women see that they can be big and happy. That there is no need to loose "X" amount of weight, or "X" amount of inches from wherever, to feel good about oneself and lead a happy, fulfilled life. That happy and fulfilled life you have dreamed of having, can be yours right now. It's a decision you make in your heart in mind.